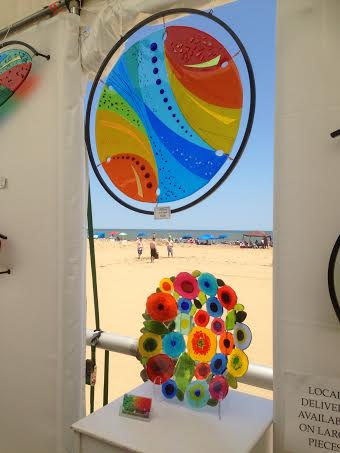 The Tidewater region is home to some of Virginia's best art, design, and cultural events, providing plenty of opportunities for savvy homeowners to find one-of-a-kind pieces. MJN & Associates Interiors principal designer Michelle Nettles keeps an eye out at these fairs and festivals to find artists and crafts people who create artwork and artisan furnishings that can enhance our clients' homes, communicating the unique personalities and interests of the homeowners.
See some of our finds from previous years and read on to see some of the best arts events in Virginia Beach, Norfolk, and the rest of Tidewater Virginia.
The Bodacious Boardwalk Bazaar and Wine Festival– Described as a "3 Day Shopping Extravaganza & Wine Festival" this bay side celebration takes place May 1st through 3rd in Fort Monroe, Virginia. In addition to over 200 artists and artisans, there will be live music, great food, a beer garden, and wine from Virginia's best vineyards.
Friday, May 1st: 10 am to 7 pm
Saturday, May 2nd: 10 am to 7 pm
Sunday, May 3rd: 10 am to 6 pm
Boardwalk Art Show– The Virginia Museum of Contemporary Art (MOCA) will hold its 60th annual Boardwalk Art Show June 18th through 21st. The event features 100+ fine artists, delectable food, and live entertainment, all along the beautiful Virginia Beach shore. The proceeds from the event support MOCA, so you can feel good knowing that you're beautifying your home and supporting the arts.
Thursday, June 18th: noon to 6 pm
Friday, June 19th: 10 am to 6 pm
Saturday, June 20th: 10 am to 6 pm
Sunday, June 21st: 10 am to 6 pm 
Virginia Aquarium Chalk the Walk ARTsplosion– OK, so you can't actually buy art at this event, but you won't want to miss the beautiful-yet-transient creations of both amateur and professional artists as they transform the sidewalk into a colorful patchwork canvas!
Neptune's Arts and Crafts Show– The Arts and Crafts show at the Neptune Festival features over 270 vendors selling everything from photography to stained glass to ceramics. Shopping for art is even more fun and inspiring against the beautiful backdrop of the Atlantic Ocean!
Friday, September 25th: noon to 7 pm
Saturday, September 26th: 10 am to 7 pm
Sunday, September 27th: 10 am to 6 pm
Photo by Michelle Nettles; artwork by Lisa Mote