Over the past few years we at MJN & Associates Interiors have had the pleasure of designing for Homearama in Hampton Roads. Homearama is an annual event where multiple homes are custom built in an area and fully furnished to showcase the latest building trends and technologies as well as interior design and landscaping. From start to finish Interior Designers are involved with the selection of what goes into the homes. This includes the brick, flooring, hardware, lighting fixtures as well as custom furniture, custom window treatments, and accessories.
Since we use so many things for staging the Homearama houses we currently have an overflow of inventory and are willing to let some things go, especially window treatments for far below our cost!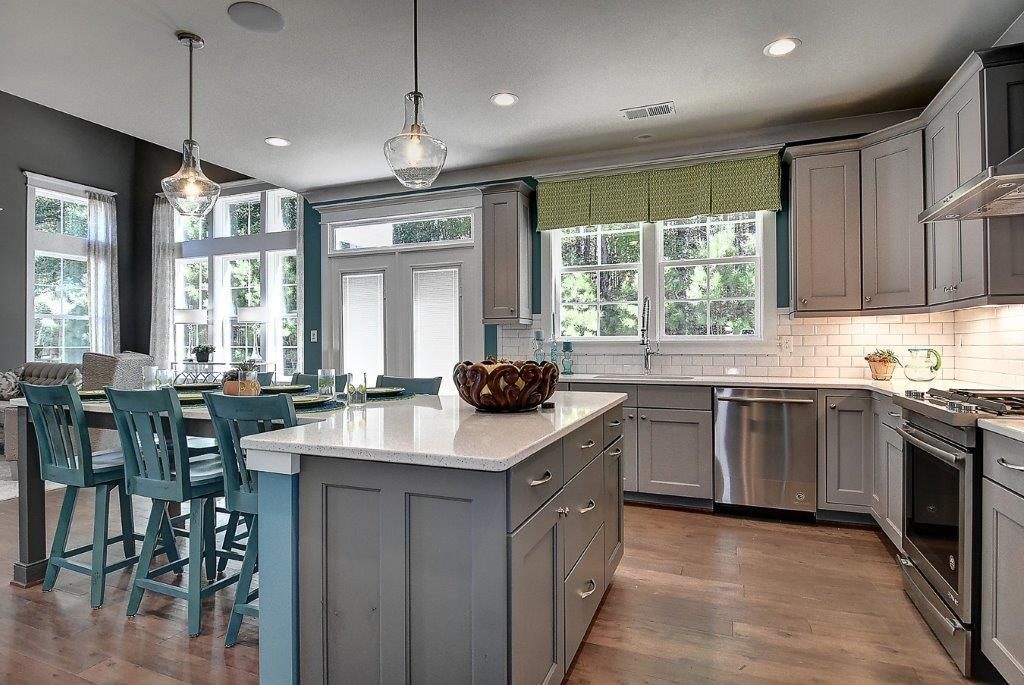 One of the best ways to make a space feel softer and more inviting is with window treatments. In the photo above you can see how we used neutral colors on the floor, cabinetry, and backspash and then brought in our accent colors (peacock blue and green) with the smaller elements to bring a big pop!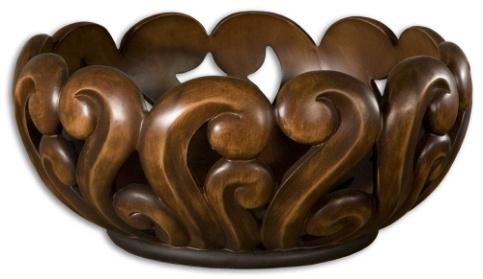 The patterned custom green valance above is available for purchase for less than the price of the fabric alone at $55 and is lined and interlined with blackout lining.
Also from this room: One of our favorite accessories! We have a few of these carved wooden bowls that we've featured on the counter available. Great for decorative or practical use and bringing some warmth to any space. (Retail Price: $177. Sale Price: $119)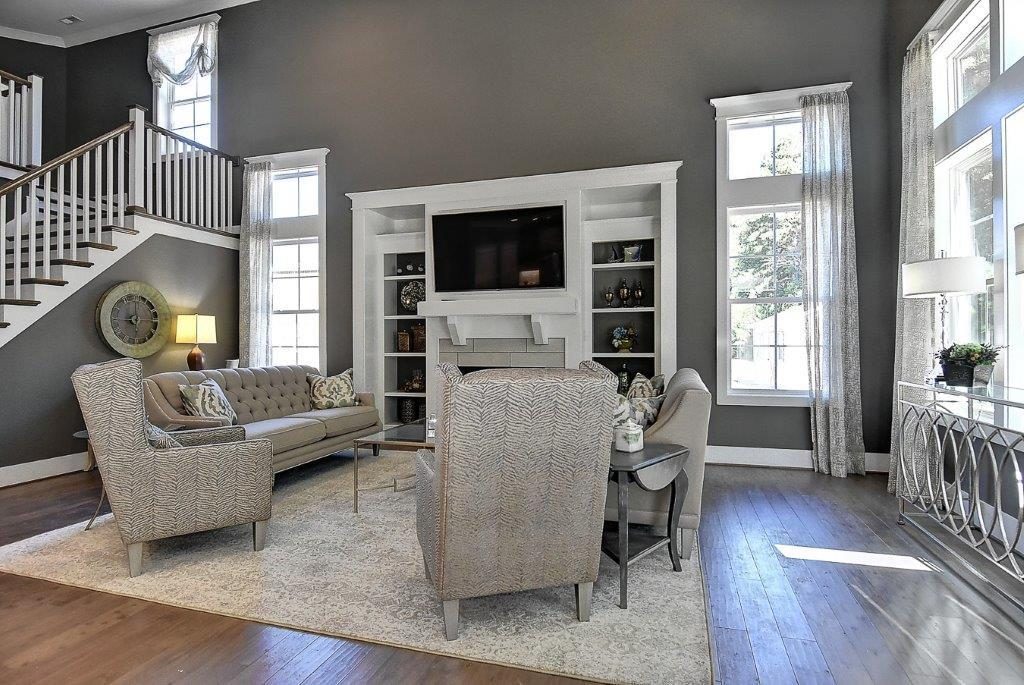 In the living room we chose to keep things neutral and sophisticated bringing in the accent colors we used throughout the house in a more subtle way. You can see the blues and greens incorporated in the pillow fabric, the clock on the wall, and smaller accessories. For the window treatments we used a unique patterened sheer as a drapery and coordinated it with a simple valance at the top of the stairs. This valance is available for $45 and the matching sheer panels (one set) for $175.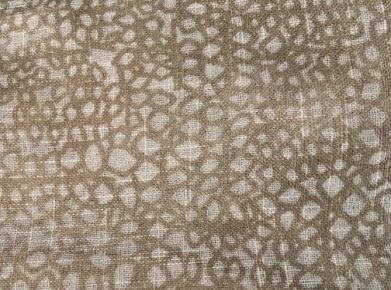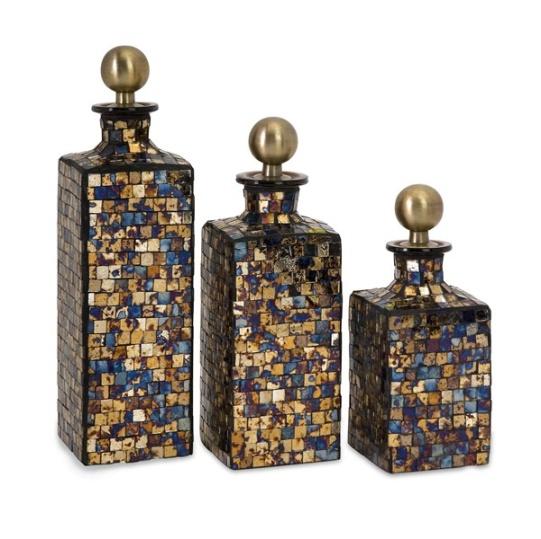 Also from this room: This set of three mosaic bottles (pictured on the left) is a great way to bring a touch of color and some visual interest to your space. (Retail Price: $201. Sale Price: $85)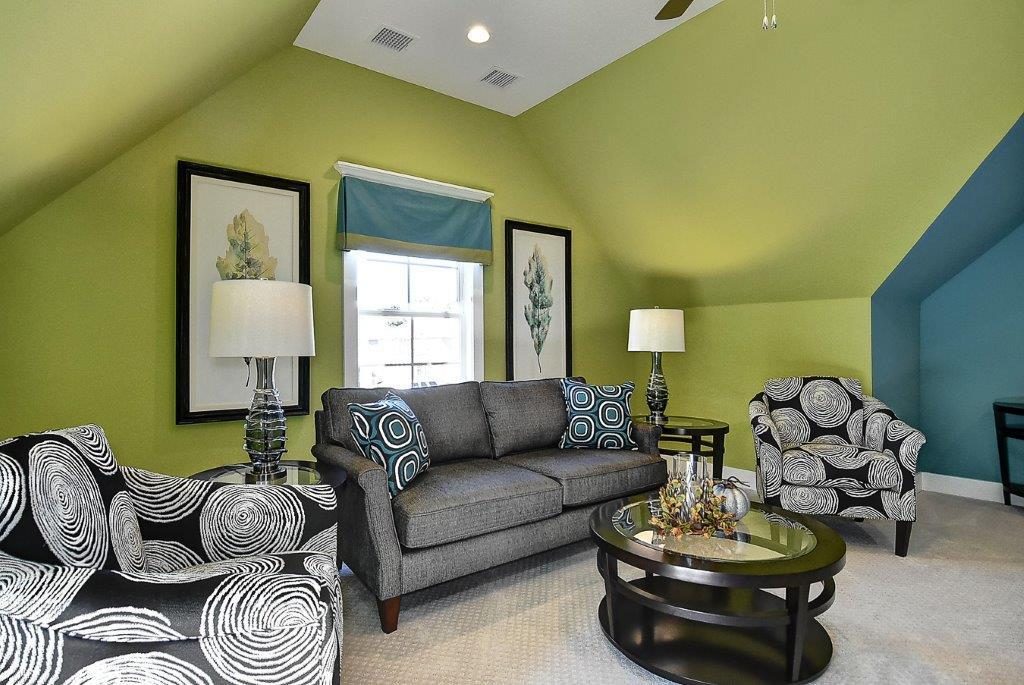 We had some fun with the room above the garage which featured a murphy bed and living room area. Using the accent colors we painted the walls two different hues and had two reverse valances custom made to coordinate. Pictured above is the blue valance with green trim we put on the green wall and not pictured is the opposite (a green valance with blue trim). These are currently available for purchase for $45 each.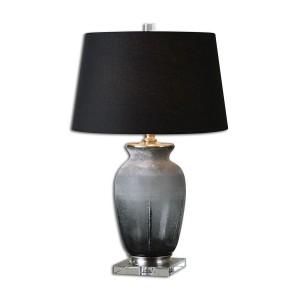 Also from this room: Pictured below is a set of glass candle holders with decorative metal strips. They come as a pair, but can be used in different ways. Above you can see how we placed a small wreath around one of them and created a festive centerpiece for the round table. (Retail Price: $207. Sale Price: $75)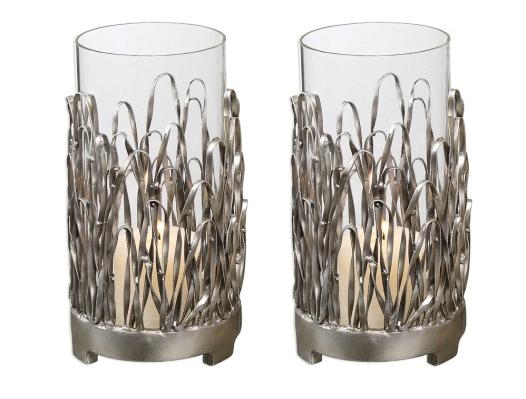 Another one of our favorite items from this room is the lamp to the left. It has a transparent blueish gray tone with black shade and crystal base. (Retail Price: $357. Sale Price:$199)
Check back for a part two with more window treatments and accessories! The prices quoted are good while supplies lasts only.