LED lighting has been popular for quite some time, but not for interior designing. Typically you would hear about LED lights for motor vehicles. The light is brighter and shines farther out which is great for nighttime driving.
But it didn't take long for the popularity of LED lights to make its way into our homes. The technology is continually changing to improve the bulb in every way possible to give rooms a better quality of light that is durable and reliable. The result is endless opportunities to incorporate these lights into unique designs within the home.
Let's take a look at the different ways we can use LED lights for interior designing and what their advantages are.
What Are LED Lights?
An LED is a light emitting diode. There is an electrical current that passes through a microchip. This current is what creates the light we see by illuminating the LED light source. These lights are found to be 90 percent more efficient at producing light than standard incandescent light bulbs.
Often when you stand near a light bulb, you can feel the heat coming off of it. But LED lights absorb their heat they produce into what is called a heat sink. It then dispels the heat into the environment around. The capturing of the heat is how it prevents the bulb from overheating and burning out.
Although LED lights are more money to purchase up front, the benefits greatly outweigh the price in the long run. These bulbs can use around 75 percent less energy compared to incandescent bulbs. Their lifespan is also significantly longer. So the extra dollars at the start pays off with energy savings and less frequency of buying new bulbs.
LED for Recessed Lighting
Recessed lights are those that almost fade into the structure of the house. It provides the home with a neat look that can be unique depending on the placement and light used. Quite commonly these types of lights are used as pot lights in the ceiling or to highlight a particular aspect of the house. Because these lights can be challenging to change, LED is preferred for their long lifespan.
Recessed LED lights are quite popular for working areas. They can replace already existing light fixtures with little modifications needed. They typically project light in a downwards motion which is why they are sometimes referred to as LED recessed downlights. So in offices or boardrooms, these lights work great to brighten up the room without taking space in the ceiling.
But recessed LED lights have so much more potential. In a bathroom, you can have the lights go around the mirror which gives off a halo-like hue around the mirror. Or in the kitchen, you can install them under cupboards that softly shine onto the floor to give the room a warm feeling.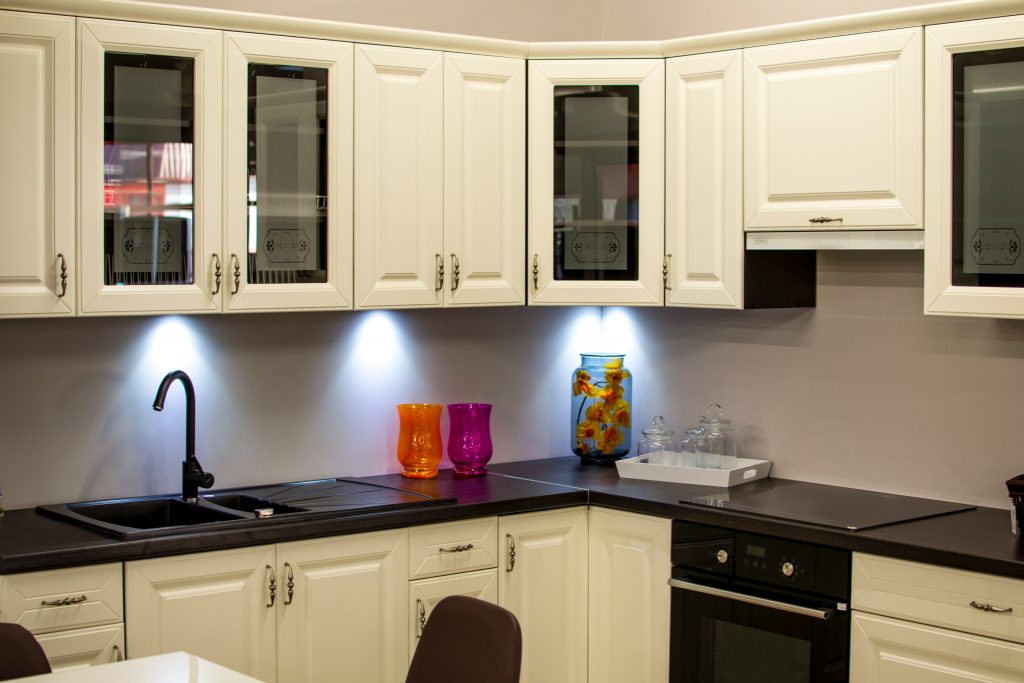 Accent Features with LED Lights
Interior decorating can be a lot of fun from the color scheme down to the lighting. One way we can use LED lights in interior decorating is to feature accents within a room. LED lights can come in various shapes and sizes that make for a great tool to highlight areas of a place.
If you go to an art gallery, typically you will see lights on the ground or the ceiling that point towards the art on the wall. Most likely these are what is called LED Shoebox lighting. They help illuminate large spaces, and you can place them in areas that other lights would not work. So the opportunities are almost endless, even inside your home.
LED lights can come in a variety of colors as well. So you don't have to stick with the traditional off-white or yellow hue of older bulbs. So whatever theme you are decorating your house in, you can choose a color for an LED light to match.