Lately we've been sharing some of our favorite art spotted at the Virginia Beach Boardwalk Art Show, from metal wall sculptures to vibrant glass art. Do you detect a theme? The art we're sharing diverges from the "usual." While we love a good oil painting or photograph, there are so many other art forms that can add personality to your home! Don't be afraid to branch out and collect art in different mediums and styles.
Today we're looking at two more artists' work, both of whom use upcycled objects in very different, but equally striking ways!
Richly colorful fiber art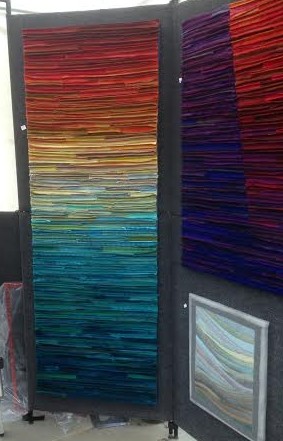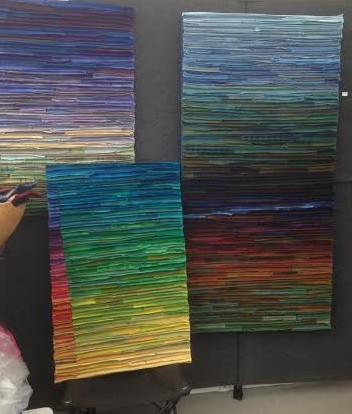 The work of fiber artist Alice Pickett Lewis is made from upcycled wool blankets. Each color of fabric used in these pieces is individually dyed in a separate vat, giving new life to humble recycled materials. The first photo above would be so beautiful in a coastal space; with undulating hues of deep blue and turquoise fading to shell tones and then fiery crimson, it evokes the ocean at sunset.
Paint chip pop art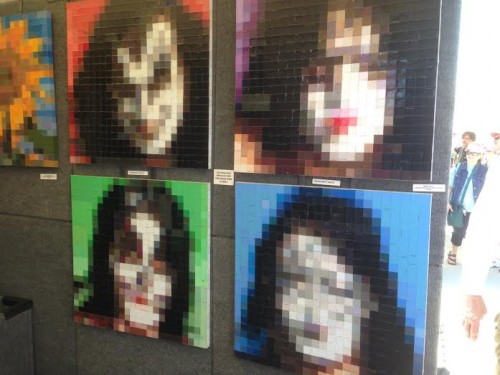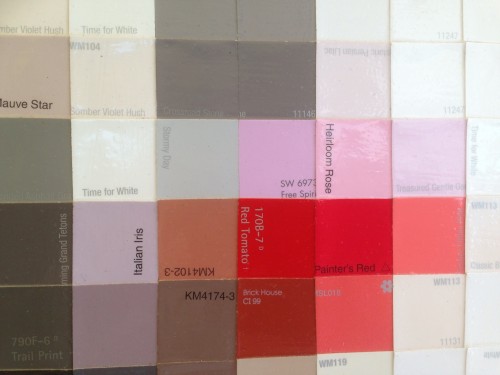 One of the most creative artists we encountered at this year's Boardwalk Art Show was Jennifer Lashbrook, who "paints" with colorful paper swatches! From a distance, these pieces look like digitally pixelated portraits, but take a closer look and you will see the carefully arranged squares of color for what they are: upcycled paint chips. Try squinting your eyes and you'll notice that the colorful squares blend, allowing you to more easily discern the subject.
This piece is a fun take on the classic art historical trope of the female nude. It would make a delightfully cheeky addition to a bath or bedroom!
At MJN & Associates Interiors, we bring you all kinds of art to help you create a home that is uniquely yours. In addition to art selection, we offer a full range of interior design services, from consultations to full remodeling. Contact us today to discuss your project!