Art is like the icing on the cake when it comes to home decor, which is why art selection is one of the services we provide here at MJN & Associates Interiors. A truly fantastic piece of art can be just the thing to take a room over the edge from perfectly fine to perfect, but we'll let you in on a little secret that interior designers know well: The way you hang or display a piece of art can be almost as important as the art itself.
It all starts with framing, so read on for some tips on choosing the best frames for your art collection from Virginia Beach interior designer Michelle Nettles.
Go with the flow
The frames you choose should relate to the decor of the room they are in. For instance, if you have metallic accents throughout your home in the form of lamps, side tables, accessories, etc., you may want to choose frames that have a metallic element. The common element could be rustic wood, natural fibers, or a particular color or finish. The frames you choose for your art collection don't need to match those common elements exactly- in fact, some contrast can be good- but they should relate to the rest of the decor somehow in color, material, shape, or style.
Consistency is key
Just as you would strive for consistency in the hardware, lighting, and plumbing fixtures throughout your home, there should be a cohesive flow from room to room in addition to harmony in each individual space. That does not mean that all of the frames in your homes should be the exact same finish and style, but rather that they should all share some commonalities.
Think outside the box (and inside the frame)
Speaking of harmony, remember that framing can be a great way to unite your collections into a visually appealing whole rather than a cluttered gathering of disparate elements. You can frame so much more than just photos and art; sports memorabilia, treasured baby clothes, event posters, and much more can all be displayed elegantly with custom framing and shadowboxes.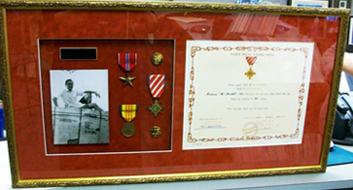 For the best results, work with a local framing shop. Here in Virginia Beach, we recommend Frame N Art for custom framing and displays. High-quality framing can show off those meaningful objects that make a house a home, giving them the elegant presentation they deserve to become a truly special and personal addition to your decor.
Want more help creating harmony in your home? Take a look at our guide to hanging art, and give us a call at 757.306.6000 to discuss your Virginia Beach interior design needs.