Every year our principal interior designer Michelle Nettles attends the High Point Markets in High Point, North Carolina. As the largest furniture industry trade show in the world, High Point offers a glimpse into the upcoming trends, both in the realm of fine furnishings and the greater interior design industry. Once again Michelle has come back with a fabulous peek into the freshest design trends for your home, so read on to see one of our favorite color trends from Spring Market- the coastal-ready combination of blue and coral.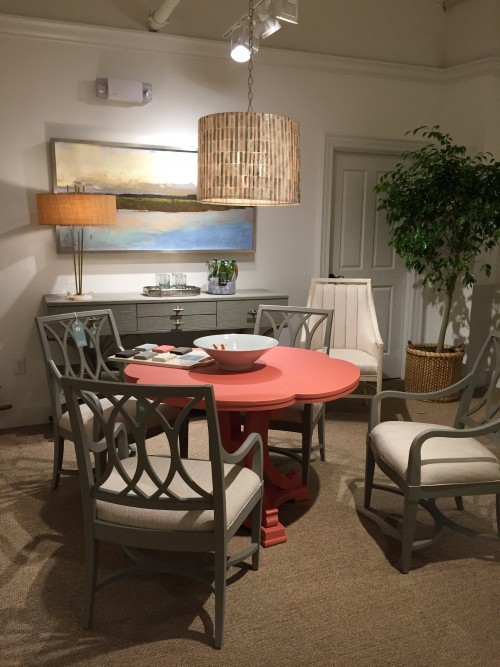 Blue and coral were everywhere at Market this spring, both alone and together. The dining vignette above illustrates the intersection of another trend as well- painted furnishings. The bright coral of the table adds a wonderful zap of energy and brightness into an otherwise neutral space. Combined with the blues of the landscape painting over the sideboard, the effect is subtly beach yet still elegant.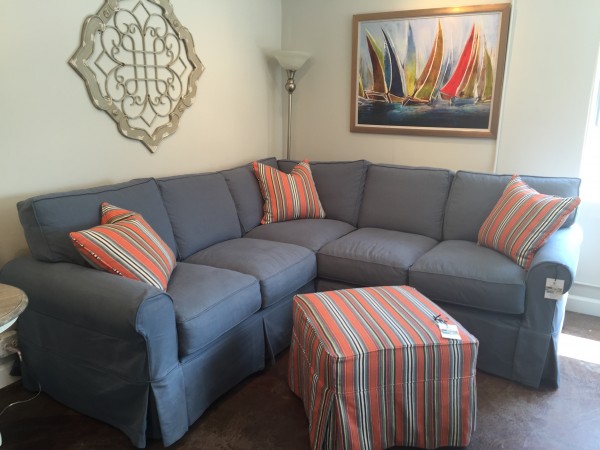 This sofa and ottoman vignette perfectly channels the spirit of coastal interior design. The tailored upholstery of the skirted sofa and ottoman add a bit more formality, but the cheerful blue and coral color scheme, combined with the beachy stripes of the ottoman and throw pillows, make this pair the perfect addition to your coastal Virginia home.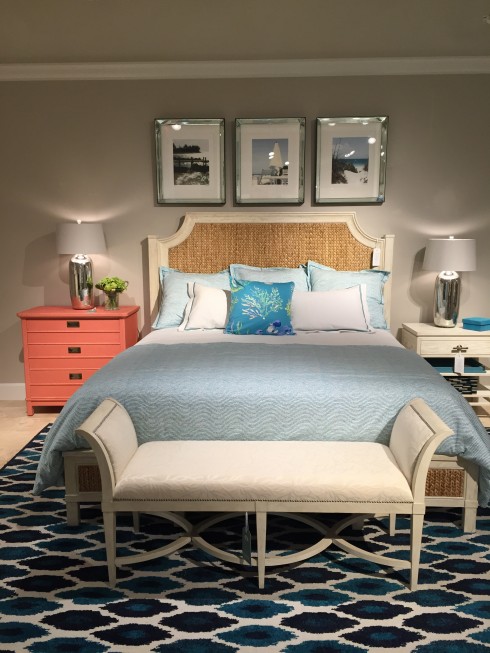 Here's the colorful painted furniture trend again, this time in a perfectly relaxing sea-inspired bedroom. The combination of both pale blue and dark navy with the coral accent of the nightstand adds even more depth to the color pairing.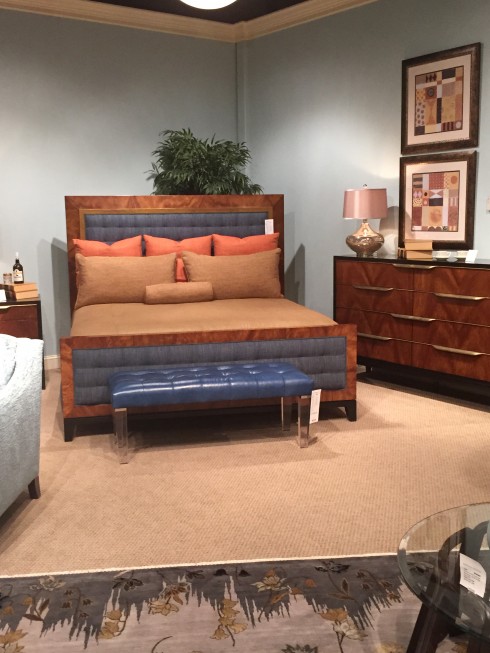 This more masculine take on blue and coral adds a camel color to the mix in the pillows and coverlet. While the hue is related to the coral color of the pillows, its earthiness creates a more subdued overall effect than the blue and coral would have by themselves.
If you are interested in refreshing your Tidewater Virginia home with updated decor, MJN & Associates Interiors can help! Give us a call to learn more about our Virginia Beach interior design services, from color consulting and custom draperies to full remodeling.