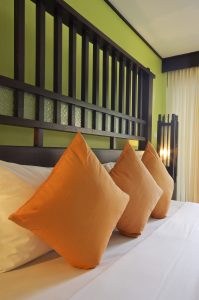 Each year Pantone Color Institute predicts which color will be popular for the coming year. For 2017, the company has chosen Greenery – Pantone 15-0343. Its fresh yellow-green shade brings visions of spring when nature awakens and begins anew. Greenery is a life-affirming shade that works to remind you to take time to take a deep breath, reconnect and appreciate the beauty of nature. Here are three ways your Virginia Beach interior designer can help you incorporate this trending and versatile color into your home.
Accessorize, Accessorize
You don't need to paint your walls to add Greenery to a room. Instead, bring the color into your room with a tray, vase or a small piece of art in that color. An interior designer can help you choose interesting accessories to complement your space.
Custom Throw Pillows
A great way to brighten up a space is to add a pop of color with throw pillows. Because Greenery goes so well with so many different color palettes, it's easy to introduce it as an accent color with your existing decor. Throw pillows will make your space cozier during the cold winter months. MJN & Associates can create custom throw pillows for you.
Add Some Real Greenery
You can add visual interest to both your indoor and outdoor spaces by incorporating Greenery via actual greenery. Choose plants that are within the Greenery color family such as:
Chartreuse sweet potato vine

Ogon

sedum
Pineapple or Electric Lime varieties of coleus
Asparagus fern
Bird's Nest fern
Moss
Baby's Tears
Spider Plant

Pothos

Succulents
Contact MJN & Associates to speak with a Virginia Beach interior designer who can assist you with any interior design projects that have for the upcoming year. Whether you are seeking custom throw pillows, draperies, art procurement, or choosing a color scheme, we are ready to help.