What is Flor? Flor is a completely customizable create-your-own rug. It is made up of 19"x19" carpet tiles and you choose the colors and style and make it any size you want and uniquely your own.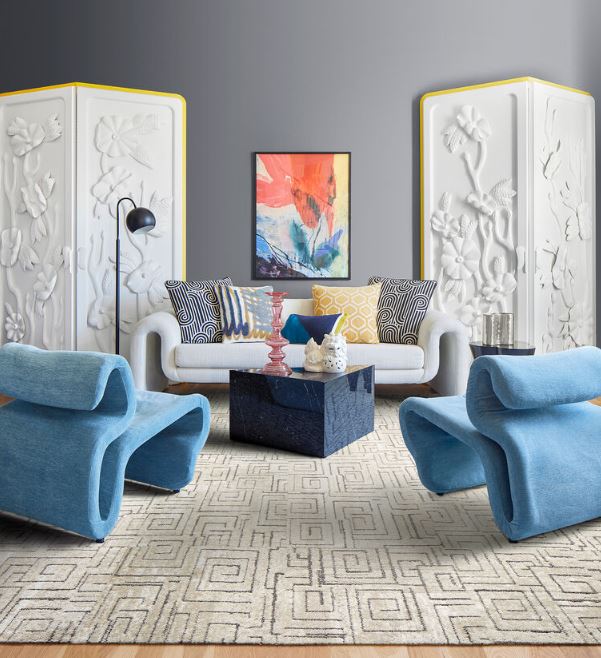 Here's why we love it:
When you think of carpet squares, you may think of a commercial application. This is anything but. There are beautiful patterns, designs and textures that can make any space sparkle.
The combinations you can create seem limitless. You can express yourself through combinations of colors and stylings. You can even get ½ sized tiles to create borders.
Have an odd-sized space? It is no problem for Flor. When a standard 5×7 or 8×10 just is not right, sizing can be adjusted simply to fit your space.
Cleaning is so easy. Having a diabetic dog has been a challenge. His "accidents" cost me an expensive custom rug that could not be saved for all the stains incurred. I have replaced that rug with Flor.  Now if he has an accident, or something is spilt on it, the square can be picked up, washed off and replaced right back into the rug.

If it is stained somehow, (spilled paint, ink?) you can replace the stained squares without having to replace the whole rug. (This hasn't been an issue for us.)
We have used the squares with several clients as well. Recently, one client decided she wanted her rug a little bit larger.  Easy-peazy with Flor. We just added a few more tiles.
Different from commercial tiles, it does not stick to the floor, but the squares stick to each other. You can then move the tiles as a whole rug.
If you move often, Flor is awesome. You can reconfigure your rug size by just moving the squares around with no need to buy a new rug, and the portability of this rug from one space to another is unmatched.
You can create a customizable rug is priced quite reasonably.
A beautiful rug does not have to come at the expense of the environment or your health. The rugs are free of harmful chemicals and low on VOCs, making them a safe choice for your home and mother earth.
Installing is easy but if you do not think you can do it or you just do not want to, let us order it for you and we will install it. We are pros now.
We hope you find it as beneficial as we have.