Do you plan to entertain at home this Christmas season? The holidays are a time for togetherness with family, friends, and neighbors, so your home is likely to get a workout due to the increased traffic, especially in the dining room!
Troubleshoot your dining room
For many families, the formal dining room is the least-used area of the home. If you rarely use the space and then host a dinner party in it, you may be surprised by some of the issues you find. Is there enough room for guests to move around while others are seated? Do you need a larger sideboard for holding pitchers, serving dishes, etc? A good way to figure out what needs improvement in your dining room is to start eating family dinners in there. Once the issues are identified, you can address them before hosting your next event.
Some solutions may be as easy as moving a piece of furniture from one end of the room to the other, while others may warrant a call to your interior designer for help choosing a more appropriate rug or acquiring a table that better fits the space. If space is limited, consider swapping the chairs on one or both sides out for benches. If you have to add another table to your dining room to fit all of your guests, cover both tables with matching linens to streamline the appearance of the tables and avoid a hodge-podge look.
Add holiday cheer
Once you have a functional foundation in your dining room, consider ways to add holiday charm to the space. Hang shimmering baubles from the chandelier or drape it in evergreen boughs. (Make sure any decorations on or near light fixtures are not situated in a way that would pose a fire hazard.) Set the table with your best linens and china, add a dramatic floral or evergreen centerpiece, and fill bowls or glass vases with Christmas ornaments.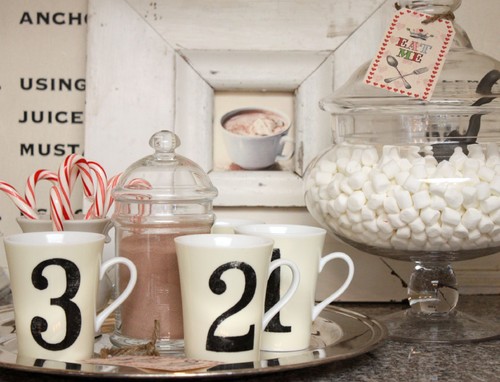 If your dining room affords enough space, set up a hot cocoa bar on the sideboard or a small table. Use a pretty tray to contain goblets full of various marshmallows, peppermints, and chocolate shavings, plus shakers of cinnamon and nutmeg. Add some mugs, spoons, and napkins. Other fun variations could treat guests to eggnog, hot cider, mulled wine, or a signature cocktail.
Whether you need help building the foundation of your dining room with a rug, furnishings, custom window treatments, wall finishes, and lighting, or simply want to add the finishing touches through accessories and art, MJN & Associates Interiors can help. Contact us today to set up a consultation and learn more about our interior design services for homeowners in Virginia Beach, Norfolk, and the Hampton Roads area.