Do you follow MJN & Associates Interiors on Houzz? Houzz is a unique platform to bring homeowners together with home improvement professionals, from interior designers to contractors and much more. It's also a great tool for those who are planning home improvements, allowing you to collect ideas and share them with your designer. (Check out our tips for collaborating with an interior designer on Houzz here.)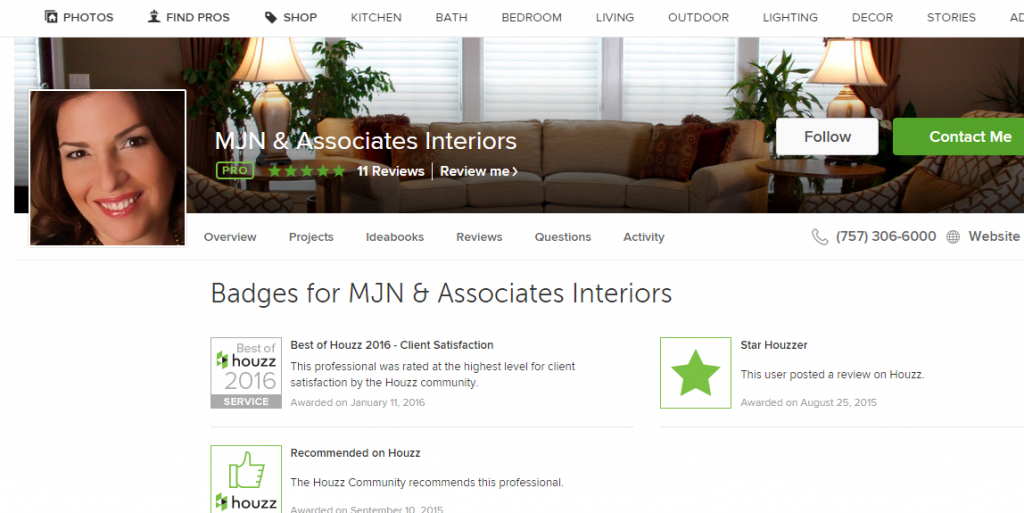 Award-Winning Customer Service in Virginia Beach
We're excited to announce that we've been awarded the Best of Houzz 2016 award for Customer Service! Winners were chosen from more than 35 million monthly users on the site, with Customer Service winners chosen based on several factors, including number of client reviews and the quality of those reviews. Only 3% of pros win, so we're excited to be chosen.
Thank you to our wonderful clients for taking the time to leave a review of your experience! We look forward to helping you realize your next home improvement goals in 2016 and beyond.
Interior Design Services to Fit Your Needs
If you are looking for an interior designer in Hampton Roads, from Virginia Beach to Norfolk to Chesapeake and beyond, contact us today for a consultation. We can help you create your ideal home with a range of interior design services, from full home remodeling and home furnishings procurement to color consultations, custom window treatments, and art selection. We also provide digital interior design renderings to help you visualize your new space, giving you the confidence to take the plunge and give your home a whole new look.