When it comes to interior design, the details make all the difference. A polished, stylish home is an organized home. At MJN & Associates Interiors, we don't simply focus on the aesthetics of your house; we take care to design a home that's as functional as it is beautiful.
Custom Pantry Design for the Chesapeake Treasure Chest
Custom organizational systems are an excellent way to achieve daily efficiency without sacrificing style. We were recently given the opportunity to marry form and function in a way that highlighted the local flavor of the Chesapeake region. Take a peek inside our pantry at the 2016 Homearama Chesapeake's Treasure Chest show home.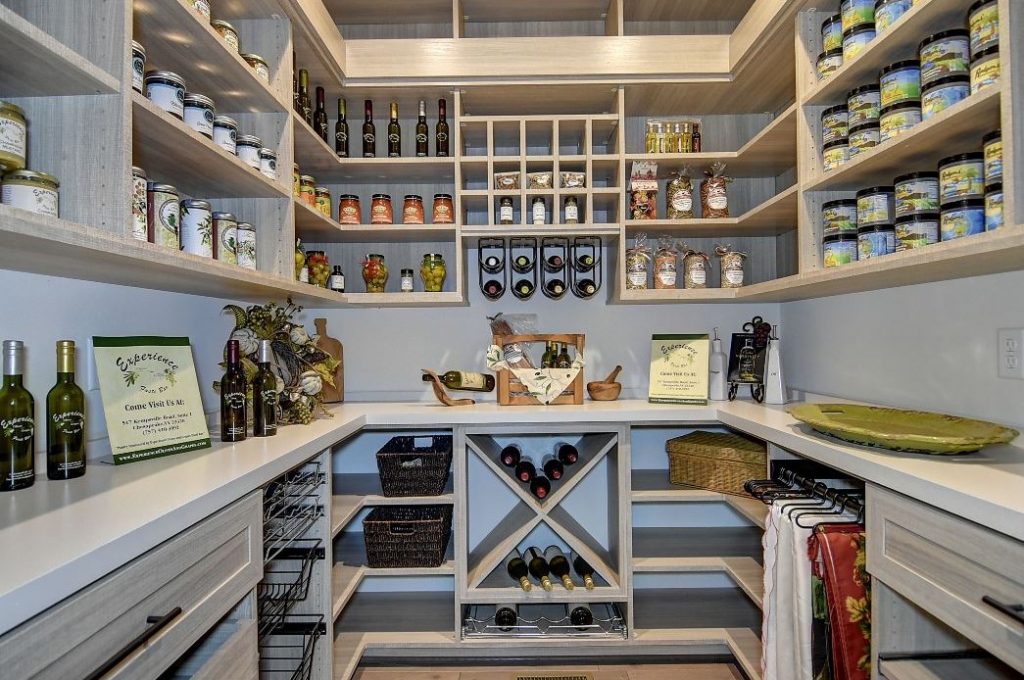 The custom cabinetry in the pantry adds both function and style to a room most homeowners frequent daily. The shelves, drawers, and custom wine racks improve the use of the pantry, which can all too easily dissolve into a cluttered mess of cabinets and spoiled food items. The light colored cabinets and countertops illuminate the contents of each shelf, reflecting the soft, bright overhead lighting. Beauty, meet brunch!
What's In Our Pantry?
The Chesapeake Treasure Chest celebrates the unique, warm elegance that characterizes the Chesapeake region. And what would a local home be without our favorite pantry items? We worked with renowned Virginia Beach companies to give a tasty glimpse into local, home cooked flavor.
Experience Olives and Grapes

offers over 50 varieties of the finest extra virgin olive oils and aged balsamic vinegars, carefully stored to preserve freshness and flavor. Located in Chesapeake on Kempsville Road.

Rodger's Puddings

like the banana pudding filling are local favorites, made with grass-fed milk, kosher ingredients, and no GMOs. Available at Whole Foods market.
Keep an eye out for more details from MJN & Associates Interiors' work from the 2016 Homearama show home.