We recently shared a before and after project showing the power of reupholstery to transform a drab or dated piece of furniture into a beautiful "new" item that gives your space a more cohesive look. While this can be a great way to update your home decor, it is not recommended for every piece of furniture. Custom reupholstery can be costly, so there are only two instances in which we recommend reupholstering a piece of furniture: when the piece is particularly high quality, or when it has real sentimental value.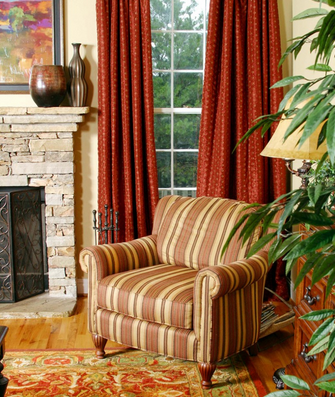 Reupholstering high-quality furniture
Custom reupholstery is not cheap, so you should weigh the quality of the piece and the cost to upholster it against the cost to replace it with a piece of equal quality and comfort. If you paid a lot for the piece initially, if you know the piece is valuable, or if it is of exceptional quality and craftsmanship, it's well-worth the cost to reupholster it and thereby extend its life.
On the other hand, if you initially purchased the piece on the cheap and/or know that it is poorly built, why invest the time and money into rehabbing it? Especially if you are working with an interior designer, you may be able to replace it with a newer, more stylish, and higher-quality piece for the same price or even less than reupholstery would cost.
Giving treasured furnishings a new lease on life
At MJN & Associates Interiors, we believe that the way you feel about your home is as important as the way it looks. Your home decor should be personal and make you feel good. For many people, that means incorporating beloved family heirlooms or pieces that hold sentimental value into their decor.
For those who frequent trendy interior design blogs, Pinterest, and the like, it can sometimes feel like you have to choose between having a beautiful looking house and living authentically with the belongings that make you feel at home. Custom reupholstery and even custom-made slipcovers are a fantastic solution to help you bridge the two desires.
By reupholstering a sentimentally valuable chair or sofa, you can extend its life and enjoy knowing that you have held on to a physical manifestation of a favorite memory. Sometimes just a new color or print can do wonders for a chair or sofa, but don't forget that you can also update the style of a piece or make it your own by incorporating elements like a waterfall skirt, tie closures, or contrast welting.
We would love to help you update your furnishings with custom reupholstery and sophisticated yet down-to-earth style, so contact us today for more information about our Virginia Beach interior design services.