One of the many interior design services we provide at MJN & Associates Interiors is furniture selection. This can include procuring furniture from to-the-trade-only vendors, designing and commissioning custom pieces from skilled artisans, and reupholstering furnishings that need a new look. Obviously furniture is one of the main elements in almost any room, so selecting good pieces is vital to successful interior design.
What separates the mediocre from the masterful often comes down to the details, and that is especially true when considering upholstered furnishings. Read on for some interior designer tips on selecting quality sofas, couches, chaises, and more, with images from the Huntington House showrooms at High Point Market.
Pattern Matching
One often-overlooked detail when it comes to upholstered furniture is how the pattern of the fabric interacts with the various surfaces of the chair. When dealing with extremely regular or geometric patterns (like the plaid chairs shown below), it is important that the fabric is carefully placed to complement the shape of the piece and to match up where two pieces come together.
For instance, the lines on the front of the chair below match up perfectly with the lines on the seat cushion, which match up perfectly with the lines on the back cushion.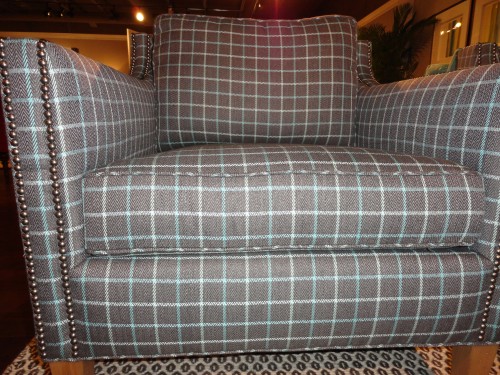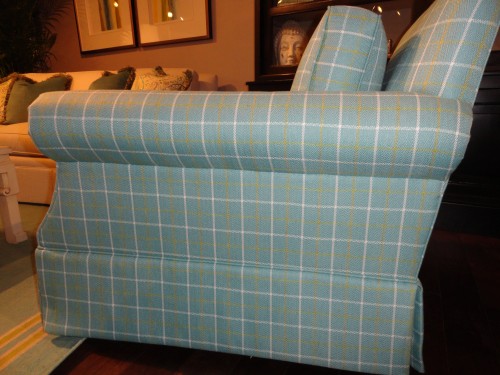 Detailing and embellishment
Investing in high quality furniture is not only financially wise (your purchases will last longer and can be reupholstered time after time to make a classic piece work with any future decor changes) but also shows in the details. The little things like perfectly applied nailhead trim, impeccable piping, and expertly tucked pleats may seem small, but they speak volumes, giving your home an air of quiet elegance.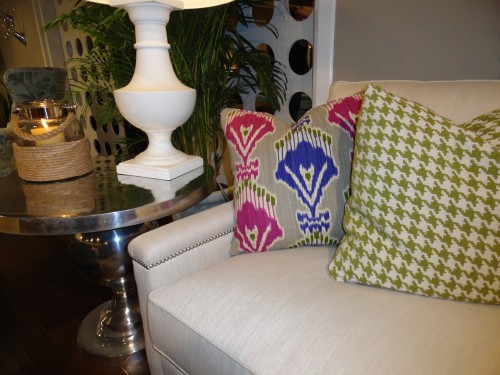 The furniture choices in  your home are important, so enlist the help of a professional. We would be happy to discuss your interior design challenges and goals, so contact us today to set up a consultation!