Are you considering whether to paint the surfaces of a room vs. putting up wall paper? I want you to take a look at the photos* below. Is it paint or is it wallpaper?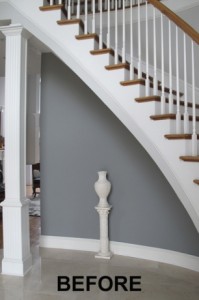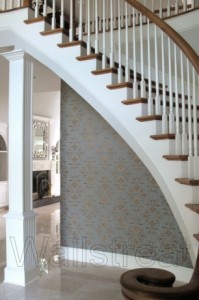 This project is actually painted!
There are many advantages to utilizing paint instead of wallpaper to enhance your interior design:
You choose the perfect color(s) for your project instead of spending hours looking through wallpaper books.
You choose the exact design to fit the scale and style of your space.
It is rare to find a perfectly straight wall. A skilled faux finisher knows this and will be able to adjust the patterns as they go, this disguise any imperfections.
Measuring for wallpaper can be quite complicated, especially of the wall is curved, angled, or has several outlets and fixtures. Any mistakes in measuring can be costly.
If you buy too much, you may return unopened packages, but you may have to pay a restocking fee. If you buy too little, you run the risk of being unable to match the dye lot or you may find your pattern is not available.
The amount of paint needed can be calculated more precisely. If you end up with a left over can of pain, it can be easily put to use in another room. Besides, paint can be repaired easily with a paint brush.
Stripping wallpaper is costly and messy. A painted wall requires only primer and paint when you are ready for a change.
If you are looking to spruce up the look of a room, instead of turning to wallpaper you may want to explore the wonderful options that are now available with paint.
For all of your interior design needs, feel free to contact MJN & Associates Interiors. With our numerous years of interior design experience, we help homeowners throughout the Metro Atlanta area with the design process, including fixture, finish, and color selection.
* Photos of decorative painting courtesy of faux finish artist Kass Wilson.