Spring has finally arrived, and we can feel the lightness of it in our bones. In our homes? Not so much. It's time to transition from the heavy, cozy decor of the cooler seasons and restore summer vitality to our living spaces. There's no better time to restyle your Virginia Beach home.
Classic Elegance Right Outside Your Door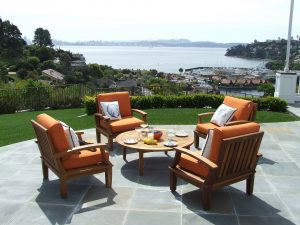 Prepare your home for warmer weather with a touch of custom style. Outdoor furnishings make the home more attractive, as well as more liveable. Do you have a wicker sofa, painted metal dining set, or porch swing that's past its prime? Our designer Michelle Nettles can procure high end outdoor furniture to add elegance to your outdoor living spaces. If your outdoor furnishings simply need updating, talk with our design team about our custom upholstery and durable outdoor fabrics.
Comfort and Style, Inside and Out
Do something unexpected with your outdoor spaces. Rugs and draperies can soften porches and patios, making them feel as homey and welcoming as the rooms inside. We can help you find outdoor accents that are durable enough to withstand the elements, but will complement the unique style of your Virginia Beach home.
Natural Beauty
Take advantage of the beauty outside. Gardening containers come in any shape, size, or style. Contrast the antique gold finish of a metal container with the verdant vibrancy of ferns. Allow a simple stone pot to emphasize bright seasonal flowers. Play with heights and styles to create an eye-catching display.
Whether you're looking for a few summery touches or are considering a more extensive remodeling project, MJN Associates & Interiors will help you transform your home for summer.