The 2012 Kitchen and Bath Industry Show (KBIS) was, as usual, an insightful glimpse into the present and future of the home design industry. One of the driving forces in the world of home remodeling is universal design, which is expected to continue exerting its influence over all areas of home design for years to come.
We've covered universal design before here on the blog, but for those who don't know, it is a design philosophy of inclusion. Universal design differs from handicap accessible design in that it is integral- not merely adding safety features to an existing space, but reconsidering every element of the room to arrive at solutions that can accommodate anyone comfortably, regardless of age or ability. And when done right, you won't even notice the differences from a traditional space.
According to Remodeling Magazine, universal design was a popular theme at the latest KBIS, with panel discussions exploring the topic extensively. With the kitchen being such an important part of the home, some participants focused on the ways universal design can impact the space.
Designer and panelist John Yun explained the challenges of universal kitchen design, pointing out the dual requirements of fitting lots of functional items and appliances into a relatively small space, while also providing adequate space for walking and maneuvering. Features like lighted, easy-to-reach switches, touch-open cabinets, and easy-open doors are all important inclusions, as are subtle but helpful ideas like choosing countertops and flooring in contrasting values or colors.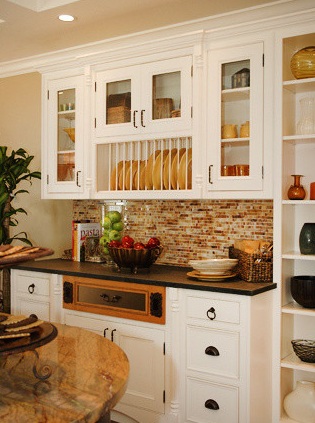 Thinking about details like these ensures that clients will be able to achieve a home that is not only beautiful and liveable now, but is also comfortable and convenient in the future. With our country's rapidly aging population, aging-in-place and universal design are sure to continue as major topics in the home remodeling industry.
Here at MJN & Associates Interiors, we can help you with your Atlanta remodeling project, providing knowledge and guidance on how to incorporate universal design into your home. Our principal designer Michelle Nettles is a Certified Aging in Place Specialist (CAPS), which means that we can clients with special needs, as well as forward-thinking clients who want to create a home they can enjoy for the rest of their lives.
photo: Houzz