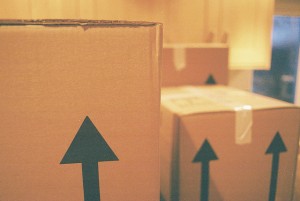 Moving can be exciting- it's a fresh start in a new place, a chance to recreate your living space and make improvements. However moving can also be quite stressful, so stressful in fact that it consistently ranks along with "losing a job," "divorce," and "death of a loved one" on lists of the most stressful life experiences!
While selling your home, packing up all of your worldly belongings, and starting over somewhere else is certainly a daunting task, it doesn't have to be so stressful. All you need is the right team to ensure that your move to a new home is a success.
Assembling a moving team you can trust
Setting up your new life is so much easier when you hire the appropriate professionals to smooth the way. Obviously the first service provider you'll need to secure is a good moving company. Security Storage and Van of Norfolk, Virginia has been helping families in Hampton Roads move house for years, and below are some of their tips for hiring movers.
Hire a reputable company with years of experience. After all, you're putting your entire household in their hands.
Choose a moving company that provides packing service. Not only will this save you time and energy, but you can also rest assured that your property is being packed by the pros.
Get an in-home estimate. No one enjoys being surprised by a service that went way over estimate. Get a real, in-home estimate for the most accuracy.
Make sure the company you hire is licensed and insured, and that they use only certified movers.
Another service provider you may want to consider hiring is a professional organizer. An organizer can be especially helpful in the months before a move to help you pare down your belongings and decide what is really deserving of moving with you to your new home.
Hiring an interior designer to set up your home
Possibly more dreaded than the packing and moving is the un-packing. One way to make your move-in better is by hiring an interior designer to help you prepare your new home. It's so easy for us to get stuck in a rut when it comes to home design. "Well, we put that sofa next to that table in our old house, might as well do the same here, right?" A designer can help you set your house up successfully right from the start and make it feel like home. It's often easier to do these improvements when you first move in or even before, rather than having to make changes after you're all moved in and settled into a pattern.
At MJN & Associates Interiors, we offer a number of interior design services in Virginia Beach and Hampton Roads to help you get settled after a move, from paint color consultations and space planning to custom window treatments and rugs that fit perfectly in your new space. Give us a call at 757-306-6000 to schedule a consultation!
Photo by Nathan O'Nions via Flickr (CC by 2.0)