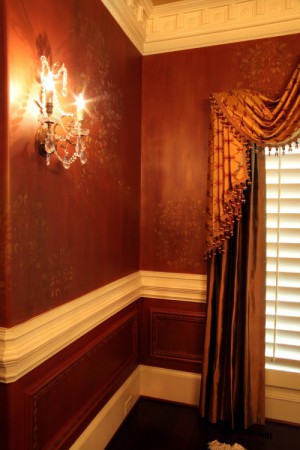 As we mentioned in our last blog post, it's prime time to hire an interior designer if you would like your home to be transformed for the holidays! Beat the rush and ensure you get exactly what you want by starting your home renovation projects early. But once you're ready to start, how do you decide where you'd like to concentrate your efforts?
Barring a complete home makeover, there are still certain improvements you can make that will have a huge impact on the style and presentation of your home. Take a look at some of our favorite ways to achieve maximum impact with your interior design budget.
Custom rugs and window treatments– Area rugs and window treatments are foundational elements of your interior design scheme, so it just makes sense to make them a priority. With our custom drapery and custom rug design services, we not only provide you with beautiful finished products, but can actually bring a whole room together. We will carefully choose the colors and style of your custom items in order to bridge the gap between disparate design elements, creating a more cohesive overall effect.
Upholstery and re-upholstery services– Related to the point above, we also offer custom upholstery services. This ensure that we can deliver high-quality new furnishings that will fit perfectly into your home design, as well as allowing you to get even more use out of older pieces that simply need an update.
Decorative painting and faux finishes– You will be amazed at the difference faux finishing can have on your boring, contractor-grade built-ins. Decorative painting is also a wonderful way to enhance a space in need of a bit more personality and drama.
Which interior design improvements are you most eager to complete in your Gwinnett County home? Contact our Atlanta interior design firm today to discuss your ideas.
photo: MJN & Associates Interiors, faux finish by Kass Wilson