Most homes in Duluth, Hoschton, and Johns Creek have some type of outdoor living area, whether it's a small courtyard or an expansive yard. No matter how large or small your space, developing it into a comfortable, beautiful outdoor living area will make your home feel larger and give you an enjoyable place to relax or entertain. Take a look at our 5 tips for creating a true outdoor room that you will love to use (almost) all year long.
Add visual interest with planters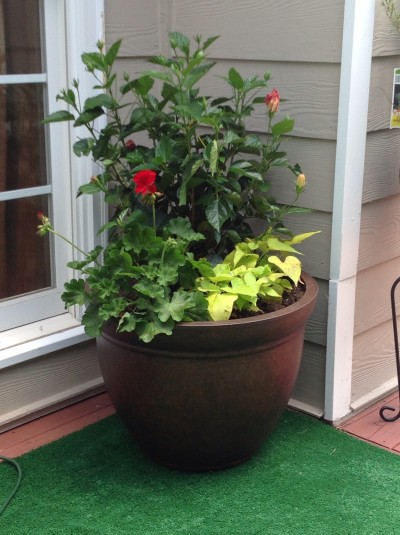 You can create a lush garden even on a concrete patio by using planters creatively. For a rich, interesting look it's very important to play with height and size. Use planters of different heights, stack pots to create tall arrangements, and play with different sizes, textures, and colors in your plant selections. When it comes to designing individual planters, choose one tall, vertical element like a grass or bush, and a low, horizontal element that can cascade over the sides of the container to add dynamic movement.
Define the space
The same principles of space planning that apply inside your home apply outside as well. For instance, define the conversation area on your porch or patio with an outdoor rug. This will ground the furniture and create the impression of a "room," while still maintaining an open feel. To create the sense of a wall or add privacy to a space, use planters of shrubs or tall grasses.
Encourage natural beauty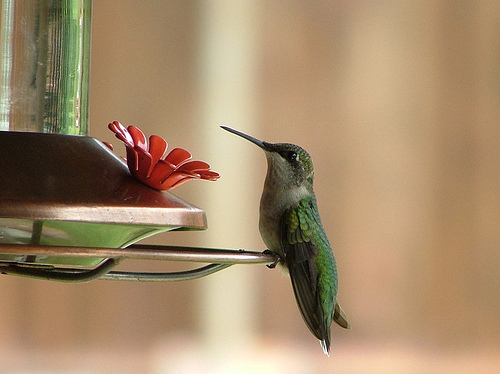 One of the joys of outdoor living spaces is getting to observe nature's beauty. A hummingbird feeder is a fun addition, and unlike regular bird feeders, you won't have to worry about pesky squirrels. You can also choose plants that attract butterflies, like heliotrope, petunias, or snapdragons.
Address your senses
Two of the most commonly overlooked aspects of designing living spaces are sound and scent. It's easy to address scent by choosing fragrant flowers for your garden, but how can you use sound? One of the most relaxing additions to an outdoor living space is the sound of trickling water, so consider adding a fountain. Even if you are working with a small space like a balcony, you can add a wall fountain or tabletop bowl fountain.
Add art
Garden statuary can add an elegant finishing touch to your outdoor living space, providing a focal point and emphasizing your theme. If you favor Asian design, a pagoda or Foo Dog would be appropriate. If you love the look of formal European gardens, a classical nymph would be a nice touch. Just remember not to go overboard- one or two items is enough.
If you would like to turn the outdoor spaces of your Duluth or Johns Creek home into welcoming rooms, MJN & Associates Interiors can help. We offer a range of interior design services to help you transform your Duluth, Johns Creek, or Hoschton home, including carrying a wide range of high-end outdoor furniture. Contact us today to set up a consultation. 
Photos: MJN & Associates Interiors, AnnCam via Flicker CC 2.o, Pekie via Flicker CC 2.0