As you may have read in a previous post, here at MJN & Associates we currently have an overflow of inventory from staging Homearama and the St. Jude Dream Home and in an attempt to consolidate we are willing to let some things go ( especially window treatments) for far below our cost.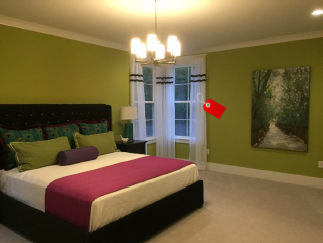 Pictured to the left is the master bedroom we designed for last year's Homearama. Throughout this house we chose to use mostly neutral furniture in contrast with vibrant colors used in the paint and accessories. For the master we chose to do simple yet striking white sheer panels with black trim on the windows that really stood out against the green wall. These sheer panels have a finished width of 100" and are available for $195 a pair or $350 for the whole set (4+ panels).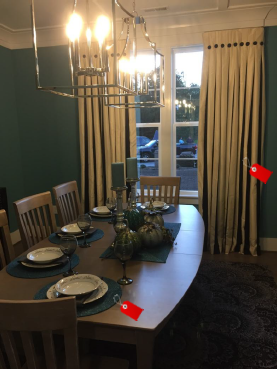 To the right you can see how we continued this design style in the dining room where we placed custom silk draperies made from an ivory and black fabric against the peacock blue wall. These drapery panels are designed so that the black shows through the pleat and feature decorative black buttons across the top. They are lined and interlined and on sale for $320.
Also from this room: Beaded placemats used on the dining room table to coordinate with the wall color. (Retail Price: $11/each Sale Price: $6/ each)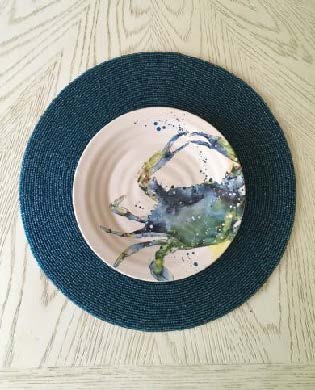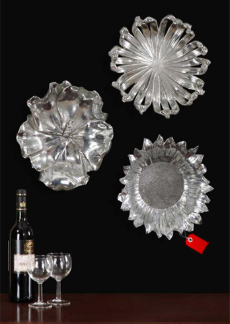 Another unique accessory we chose for the dining room is this set of three silver plated flowers with a light gray wash pictured on the left. They made a nice statement piece hanging on the brightly colored wall, but are three dimensional and can also be used lying down as a tabletop accessory. (Sale Price: $149. Compare Online For: $217.)
In the hallway and foyer of this house we kept the walls neutral and brought in a few statement pieces to enhance the flow of color. The ceramic vase with a quatrefoil pattern below measures 20.5" high and 11.25" across. (Sale Price: $29. Compare Online For: $68.) The framed art on the left features three dimensional organic pops of color in a black frame with neutral background. (Sale Price: $299. Retail Price: $507.)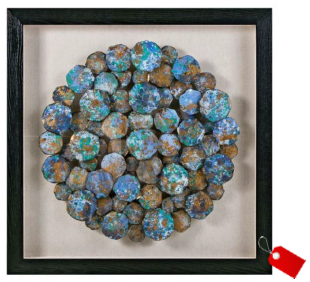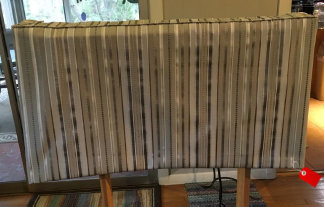 Keeping it Neutral: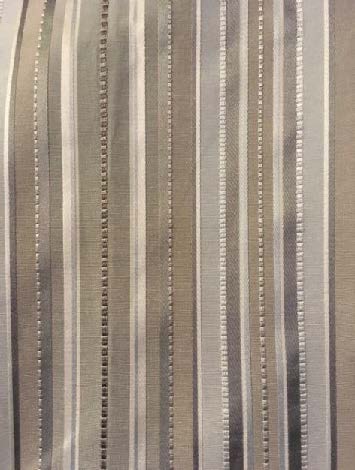 Pictured above is a custom valance (finished width is 30") with blackout lining we designed for a bathroom window to bring some visual interest into an all neutral space. The detail in then fabric is shown closer in the picture on the right. This valance is very easy to install and being sold for below our cost at $35.
Below are some accessories that also show how neutral elements can bring visual interest as patterns and textures are very important in making sure your neutral room won't look washed out.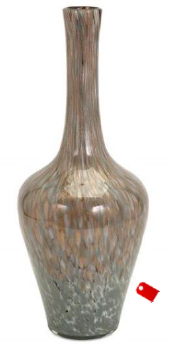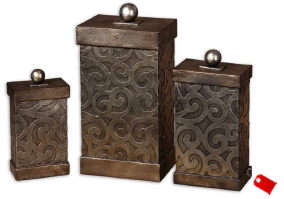 This set of three boxes on the left shows a beautiful texture and can be used in many different places. (Retail Price: $207. Sale Price: $99.) The Mystic glass vase on the right has a smooth surface, but looks textured and shines with glitter when hit with light. (Retail Price: $103. Sale Price: $49.)
This set of two decorative Gilli containers that are pictured to the right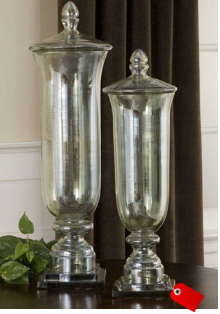 are made with a pale green glass and can be filled with anything you choose to relate to your space such as decorative beads or small collectables. The lids can also be removed and the two serve well as a beautiful vases for fresh cut flowers making them an extra versatile accesory. (Retail Price:$298. Sale Price: $139.) We have two sets of these available in our inventory.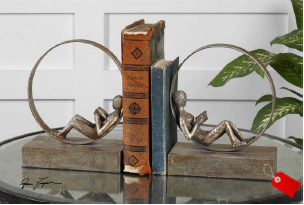 These Lounging Reader Bookends above are made with a high quality and hand finished. They feature an antiqued silver leaf finish with a light gray glaze and an original design. (Retail Price: $147. Compare online for: $107. Sale Price: $79. )
Did you see something you are interested in ? Please contact us at Mjn & Associates Interiors with any questions or purchase information. Also, stay tuned for more accessories for your home. We will be following this post up with a list of more items that we have on sale soon!