In our last post we discussed the inspiration for spa style bedroom design. The sophisticated, serene, and relaxing character of a truly good spa is the perfect inspiration for a bedroom that feels like a retreat.
The bed is, of course, the centerpiece of your spa bedroom. Obviously a good bed is important, but there is another foundational element to your spa bedroom that is often overlooked- the sheets.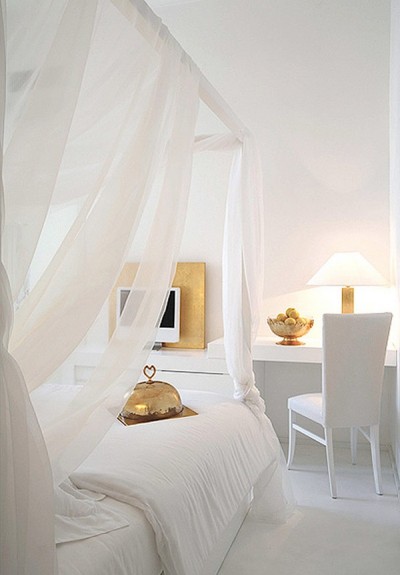 Crisp, clean white in a contemporary bedroom
Does the quality of my sheets really matter?
If you've never invested in a truly luxurious set of sheets before, it might seem unnecessary to splurge on a high thread count or Egyptian cotton. But trust us- this is one indulgence that pays off in a big way. Most of us will spend almost a third of our lives in bed. Sheets are the one element of a bedroom makeover that you will have hours of contact with, so make it count. Don't shortchange your spa bedroom; treat yourself to some high quality sheets.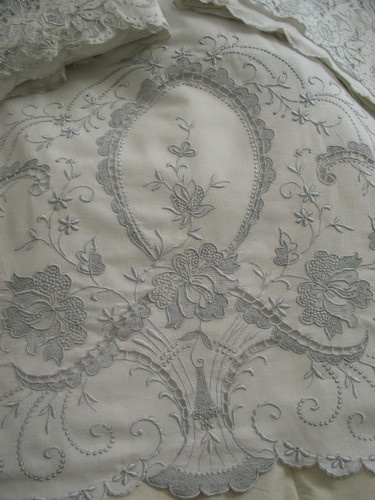 Embroidered cutwork sheets
Know your luxury bed linens
There are so many options out there in bed linens that it can be hard to navigate for the unseasoned sheet-shopper. Thread count, type of cotton, fabric weight- it's a lot to take in. Here's our quick guide to choosing sheets, culled from the Thread Count Guide, the Guide to Luxury Linens, and Choosing Cotton Sheets.
Choose a natural fiber. Cotton and linen are timeless and luxurious. They will keep you warm in the winter and cool in the summer, and come in a myriad of styles. 
Pay attention to thread count. Thread count is merely the number of threads running horizontally and vertically through a square inch of the sheet. While this can be an important indicator of softness, the same thread count can feel markedly different depending on the particular weave, ply, and type of fiber.
Egyptian vs. Pima Different varieties of cotton have different "staples," or fiber lengths. For the softest, smoothest finished product, go with a long staple cotton.  Pima, sometimes labeled "Supima" is a very fine, long staple cotton. Egyptian cotton fibers are longer still, making it the longest staple cotton and giving it the softest feel.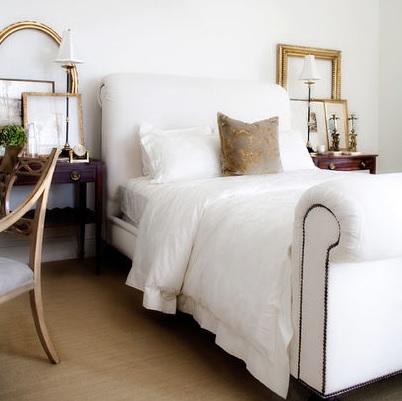 White on white makes for a peaceful bedroom.
Get the look
In addition to the fiber and weave of the sheets, there are endless possibilities in style. For a contemporary bedroom design, choose clean, simple sheets and bed linens. If you favor a more traditional style, cutwork sheets are beautiful and classic. Keep your color palette light and neutral in keeping with the relaxing spa ambiance.
What makes your perfect bed? Share your must-have bedroom design elements in the comments and be sure to check back soon for our next post about spa-inspired bedroom design.
For assistance creating a spa-like retreat in your Duluth or Johns Creek home, contact MJN & Associates Interiors. We offer many interior design services to help you through the remodeling process, including custom designed bedding, soft goods, and pillows.