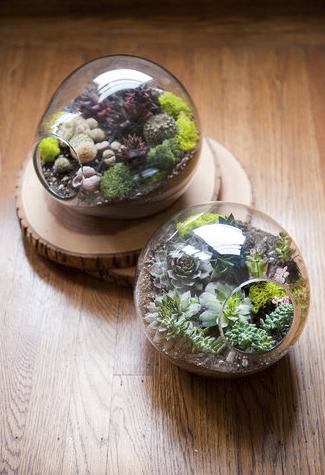 Choosing decorative accents for your home can be a challenge. While a home without any photos, art, decorative objects or travel mementos would seem too sterile, too much like a hotel, deciding what exactly you should include is not always easy. Take for example the recent New York Times article "How to Tell if You're Living an Over-Propped Life."
The article discusses the proliferation of "propping" in contemporary interior design, especially the abundance of trendy items like mounted antlers, succulent terrariums, collections of globes, chalkboard paint walls, etc. If you've spent any time on design blogs, and especially on Pinterest, you've probably noticed some of these overly styled cliches, like books organized by color.B None of these design ideas are inherently bad, it's just that we've all seen them time and time again.
When it comes to designing your Atlanta area home, don't get too caught up in trends. Your home should be a reflection of you, not the latest Pinterest craze. Does that mean you can't show off your vintage typewriter or ceramic bird collection? Of course not! Just be honest with yourself about what you really love, instead of trying to live up to the latest, hottest look.
At MJN & Associates Interiors, we can help you achieve a beautiful home that, while current and elegant, also captures your family's personality and lifestyle. Whether you need assistance with choosing furnishings or just someone to help you work your favorite things into a cohesive design scheme, our Gwinnett County interior design company can help. Give us a call today at 888.377.8026 to learn more about our Duluth and John's Creek interior design services.
Source and photo via NYT