If you enjoy decorating your home for the holidays, floral arrangements are a great way to complete the look, adding visual interest, color, and texture to your space. Unfortunately, many people forego using floral arrangements in their home decor because they perceive them as too costly or short-lived. That couldn't be further from the truth!
Floral arrangements can give a huge amount of "bang for your buck" if you know what to choose and how to style it, so read on for some tips from Virginia Beach interior designer Michelle Nettles.
Staying power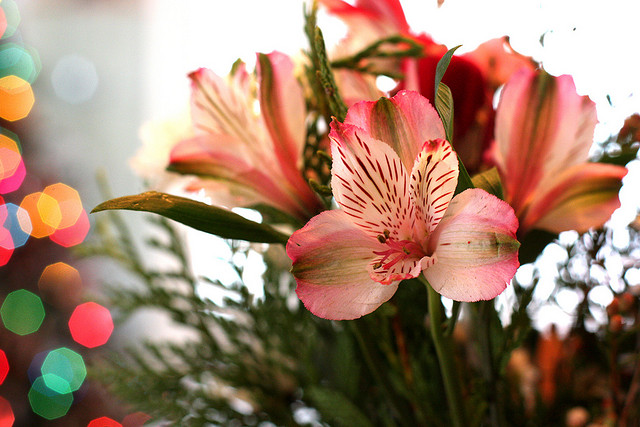 Certain flowers and plants have more life in them than others, so if you're trying to make your arrangement last, it's best to opt for the power houses. For cut flowers, choose roses, lisianthus, alstroemeria (seen above), crysanthemums, craspedia (billy balls), gladiolus, or carnations.
Another great strategy is to use live plants in a beautiful pot or basket. Consider chrysanthemums, schlumbergera (Christmas cactus), poinsettia, anthurium, or ixora, just to name a few. With proper care, potted plants can last months or even years, depending on the plant.
Dress up/dress down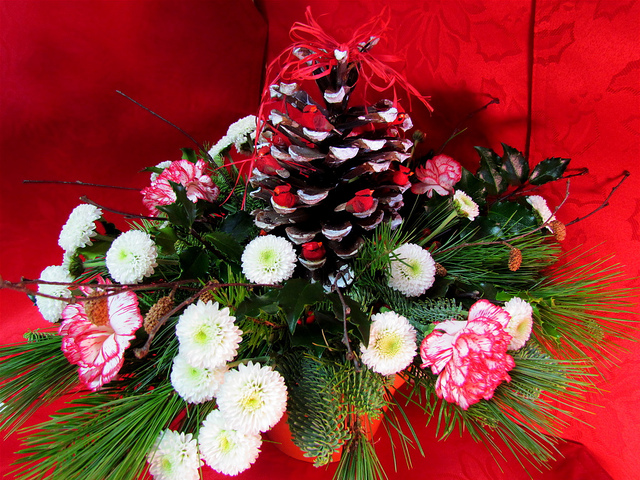 In addition to choosing long-lasting flowers and plants for your floral arrangements, you can get the most out of your purchase by dressing the arrangement up or down to take it from every day to holiday and back again. By simply swapping out the container, tying a ribbon around it, or adding decorative picks and embellishments, you can transform your floral arrangement or potted plant into a Christmas focal point. Swap out the red and green Christmas decorations or blue Hanukkah decorations for silver and gold, and voila! You're ready for New Year's entertaining!
Here, a simple vase of roses, chrysanthemums, and tulips gets a holiday makeover with some fake snow and a tea light bowl filled with peppermints. Silver or gold ball ornaments can be added to arrangements to evoke champagne bubbles, while glittered picks and sparkly accessories in black and white can add black-tie glamour.
Photos:
Kevin Dooley via Flickr (CC by 2.0)