Thanks to sites like Pinterest and the boom of interior design blogs, homeowners have access to a huge variety of home design inspiration and ideas. While it's great to have so much information at our fingertips, it can also be a little overwhelming when it comes time to design your own home. It's inspiration overload!
One way you can focus on and arrive at a cohesive design scheme for a room is to choose an inspiration object. It could be a painting, a piece of heirloom china, a flower, or anything else that brings you joy and which you admire from a design perspective. Take your cues from this piece in regards to colors, shapes, motifs, and design philosophy.
For example, let's take a look at a breakfast room makeover we completed for a client. Take a look at the before: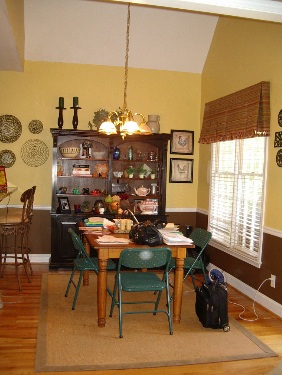 And here you can see the inspiration piece that sparked our makeover. The floral motif is vibrant and whimsical, but still draws upon elegant, traditional design.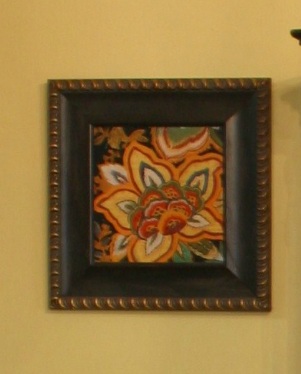 We drew our color palette from the piece, using a warm, inviting range of reds and golds, accented by a bright green hue. The hutch was re-styled for a simpler look, with a more cohesive color story. Existing wall hangings were re-purposed, positioning them over the hutch to draw the eye upward and accentuate the lovely high ceiling.
While the accessories add whimsical style, the furnishings ground the room. We added a green rug to define the dining area, as well as bold red chairs that look chic, but are actually quite practical for a casual dining space. An expandable dining table further anchors the space, echoing the strong, dark form of the hutch.
Of course, knowing what to take from your inspiration piece and how to execute it without being too literal can be a challenge. If you're looking for an Atlanta interior designer to help you make it work, give us a call today! MJN & Associates Interiors provides a number of interior design services for clients in Gwinnett County and Atlanta, including furniture and rug selection; custom window treatments, rugs, and upholstery; photo rendering; and much more.