Whether you own a beach home or just enjoy a yearly getaway, coastal interior design is the perfect choice for beating the summer heat and making your home feel like a sanctuary. Coastal style can be adapted to fit many design aesthetics, from contemporary to traditional and everything in between. This summer we'll be identifying the elements of coastal style, which you can put your own spin on to create your personalized version of coastal home decor.
One of our favorite elements of coastal style is faded wood. Whitewash, limed oak, and driftwood all add an undeniably "beachy" feel to a space while still being understated and elegant. Below, a whitewashed table, funky driftwood finish mirror, coral, and a crisp color palette of white and blue-greens all  work together to create a casual and eclectic coastal space.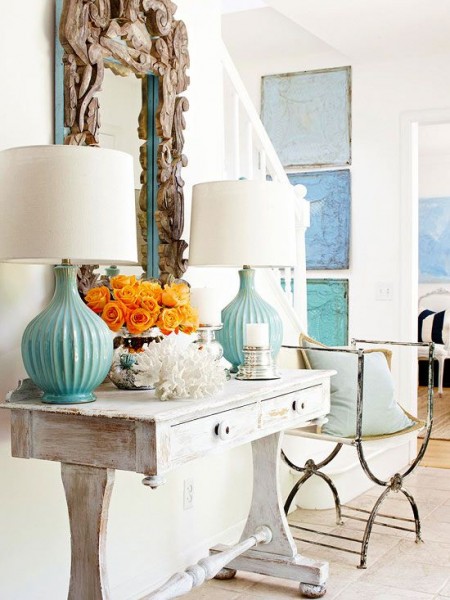 A light, neutral color scheme with soothing blue accents evokes the colors of the beach. This unique driftwood bed adds a rustic tough to an otherwise polished room for added coastal appeal.
Limed oak and whitewashed finishes can work especially well for floors and even walls. If you are trying to update wood paneling, whitewashing is a great way to make your walls more current while also adding a coastal twist.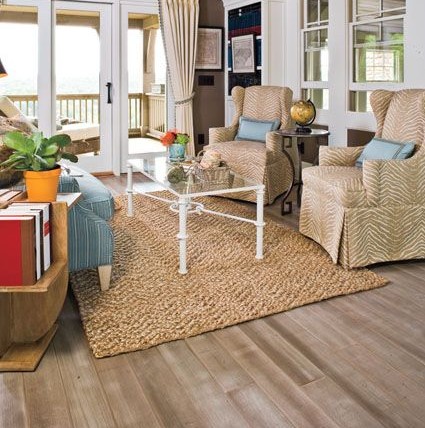 This contemporary coastal bathroom shows that beach-inspired design can be sleek and minimalist. The space also shows off one of the most ingenious products to hit the market in recent years- porcelain tile that looks like wood planks! These tiles look like limed oak, without the risk of water damage.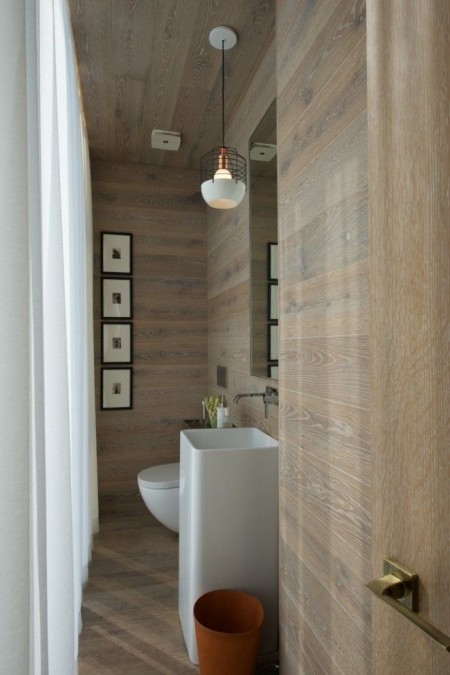 Working with a professional interior designer has many benefits, especially when you have a very specific style in mind. We have access to to-the-trade-only furniture and can even procure custom furnishings, allowing you to fill your home with unique, custom pieces that fit your space and style perfectly.
We also have the specialized knowledge to choose the best finishes and products for your home, even suggesting materials you may not have known existed. This is especially important when designing for vacation homes, which often require extra durability and easy-to-clean finishes thanks to factors like sand, sun, and salt.
If you would like to add some coastal style to your home, contact MJN & Associates Interiors today!