The warm weather here in Georgia means we have a long growing season, perfect for the gardeners among us! Gardening is a relaxing hobby, but it can also be great from a design perspective. Plants will soften your patio, deck, or porch, adding color and vitality to the space.
Choosing the right planters to display your plants is one important part of the design process for outdoor living spaces. Consider the size, shape, texture, color, etc. to determine whether the flower pot or planter will harmonize with the rest of the decor. We recently came across this fun DIY gardening project that would make a fantastic addition to your patio.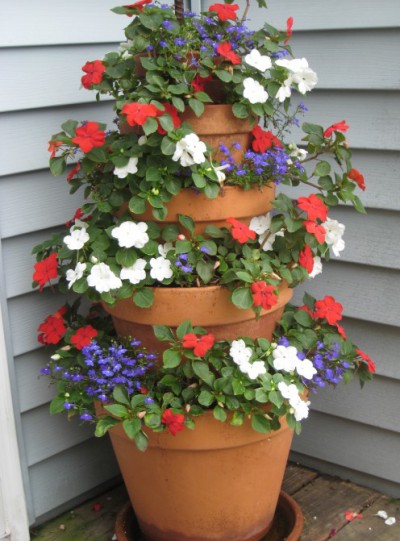 The Terra Cotta Pot Flower Tower is made by using terra cotta pots in descending sizes, stacked on top of one another. The tower of pots (anchored together by a long pole or dowel rod) allows you to plant terraced rows of flowers that cascade downward.
Verbena, petunias, and nasturtiums are all good choices for this project, and come in a profusion of colors. Choose one color or range of hues- for instance, shades of dark and light pink- for a monochromatic look, or make a statement with a range of 2-3 colors that coordinate with your outdoor decor. Take a look at the tutorial (linked above) for step-by-step instructions to make your own planter.
What's your style when it comes to outdoor decorating? If you need help giving your porch, deck, patio, or other outdoor room an elegant makeover to match the rest of your Gwinnett County home, contact us today!
photo via HubPages