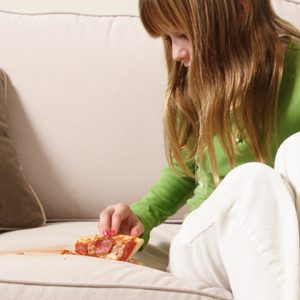 At MJN & Associates Interiors, we think your home should work for you as much as possible, reflecting and responding not only to your personal style, but also to your lifestyle–how you entertain, your hobbies, your pets, and of course, whether or not you have kids!
While people with small children often assume they're better off waiting to invest in quality furniture until the kids grow up some, the opposite is often the case. Cheap furniture wears cheaply, and it only takes a couple of run-ins with a messy toddler or a bored cat to destroy a flimsy sofa. However, when you invest in quality pieces, you end up with a home that can stand up to everyday life with grace.
That's more true than ever now that Crypton stain resistant fabric is available for your home. We're very excited to offer this fabric collection, which is not only durable and stain and odor resistant, but also feels soft and comfortable, with a huge variety of colors, patterns, and textures to choose from.
Crypton works by encapsulating each fiber of the textile, unlike other stain prevention treatments which are simply sprayed on the surface of the upholstery. This makes it much easier to clean even intense messes, from rubbed in crayon to spilled red wine. Unlike other finishes that wear off over time, Crypton is built in to the fibers themselves, ensuring that the textiles you choose for your home will look great even after years of use.
From crayon-wielding kids to furry family members to the occasional dinner party spill, Crypton eliminates upholstery emergencies. Give us a call today at 757-306-6000 to discuss your Virginia Beach interior design project, and let us help you achieve your home design goals with practicality and style.
Photo via Crypton