Spa bedroom design is all about creating a mood of peaceful relaxation, so of course you'll want to harness one of the best mood-changing elements of interior design- color. Revisit your "relaxing place" as we mentioned in our first spa bedroom post, whether it is a sunny beach or a lush mountain trail. If you have a piece of art or even a photo that depicts your inspiration place, you can use an online color palette tool like Chip It! by Sherwin-Williams to create a color scheme for your room.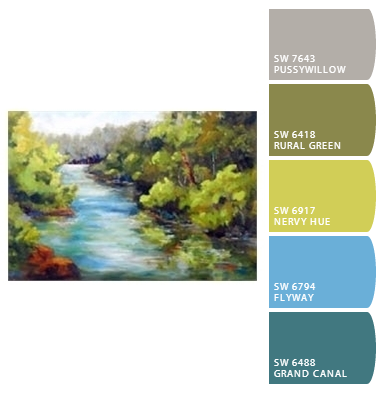 Painting by Brenda Bickerstaff Stanley, a favorite artist of ours from the Richmond, VA area
Don't feel obligated to hang a piece of art or a photo that relates to your inspiration unless you want to; you can still evoke the feeling with a great color palette and subtle finish and accessory choices. Calm hues help make a spa bedroom feel like an escape from the outside world. Just think of the place you feel most relaxed and draw on those colors.  Think blues, greens, taupes, and grays; channel the color relationship of beach sand, blue sky, and ocean, or green ferns next to deep gray stones and cool white rapids.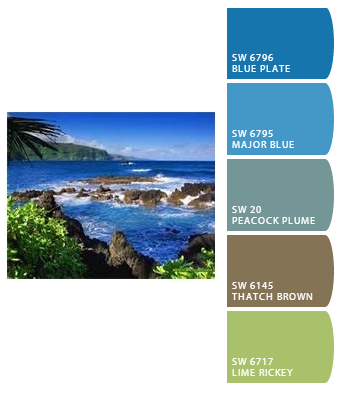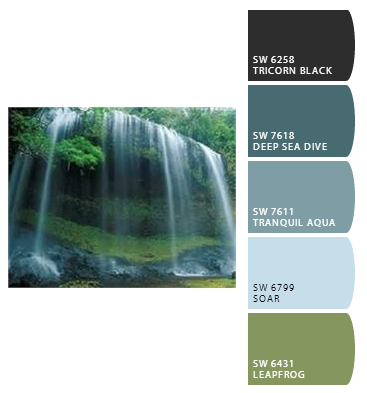 This serene bedroom is a great example of a relaxing color scheme using one of our favorite paint colors, Sherwin Williams' "Quietude." As you can see, it is possible to create a rich and inviting space using only black, white, a primary color and an accent color.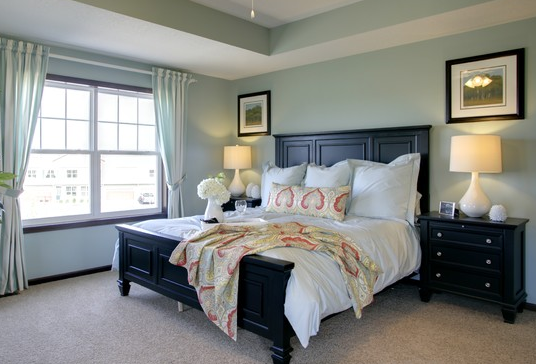 If you need help adding spa style interior design to your Duluth or Johns Creek home, we can help at MJN & Associates Interiors. We offer many interior design services to help you through the remodeling process, including custom designed bedding, soft goods, and pillows.  Contact us today to learn more about our interior design services for Duluth, Johns Creek, and Deaton Creek.
Bedroom photo via Houzz