We've discussed the inspiration behind spa bedroom design and the important first step of designing a relaxing bed-treating yourself to luxurious sheets. But what about the rest of the bed? This is obviously the focal point of the bedroom, so take a look at our tips for choosing bedding for your spa retreat.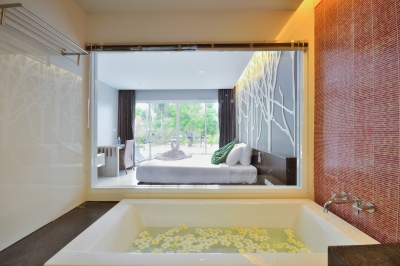 First of all, decide on a duvet and cover, bedspread, or comforter, depending on your preference. Take into account the seasons when choosing a duvet. Down can be swapped out for fiberfill in the warmer months, though here in the south you could stick with fiberfill year round. Same goes for bedspreads and comforters- spa design is all about comfort, so don't choose something you'll be sweltering under in the summer. We also love Matelasse bedding, which can suit both contemporary and traditional spaces. (More on that in our next post.)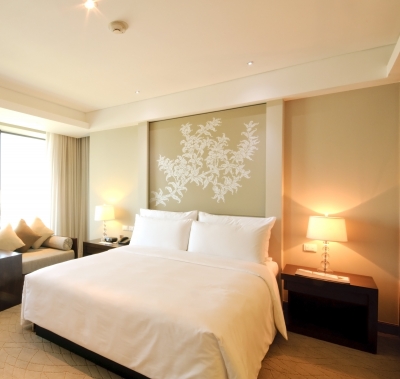 Regardless of the type of bed covering you choose, go for light, calm colors. Bright, bold bedding will not fit with the laid-back style of a spa-inspired room. Think neutrals, pale hues, or crisp, classic white. Try to stick to a monochromatic or very simple color scheme to create a sense of harmony.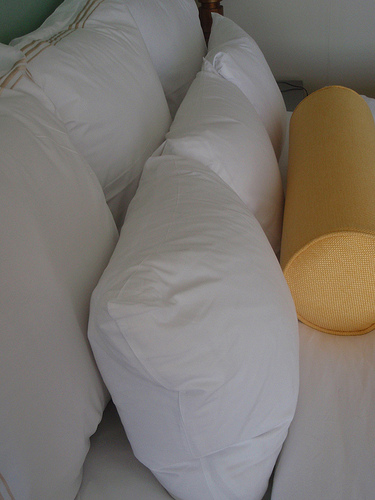 One of the main attributes of spa style is comfort, so equip your bed with lots of fantastic pillows to sink into. Not only will a pile of fluffy pillows be comfortable, they'll also add visual interest to your bed.
Be sure to include different shapes. Euro pillows (seen above, middle row) are square and often overstuffed for a luxe look. Neck roll or bolster pillows (yellow pillow pictured above) are cylindrical and, as the name implies, are great for supporting your neck.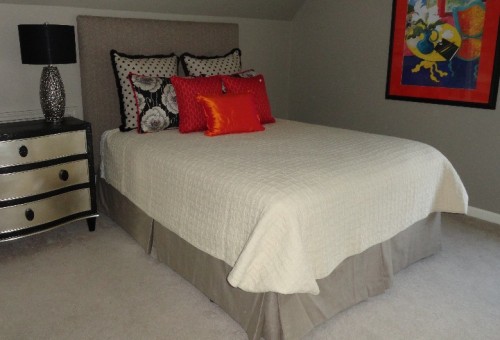 Finally, don't forget the bed skirt. This is an often neglected part of bedroom design but you'll be glad you gave it some attention. Even if you have no other custom items in the room, go for a tailored bedskirt. Bedskirts should not drag the floor or stop inches short of the floor, so even if you buy off the rack, check to make sure it will fit properly. They can be gathered for a more traditional look, or simple and tailored to fit clean, contemporary style.
In addition to our other interior design services, we offer custom-designed bedding of all types. If you would like a truly personalized look for your spa bedroom, custom bedding is the way to go.
No matter which stylistic direction you decide to go, the end result should be a peaceful, luxurious bed that you don't want to leave. Be forewarned- after following these tips, you may experience a sudden proclivity for napping.
To infuse spa style design into your Duluth or Johns Creek home, contact MJN & Associates Interiors. We offer many interior design services to help you through the remodeling process, including custom designed bedding, soft goods, and pillows.