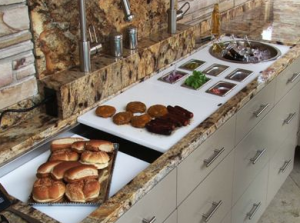 The kitchen is one of the most frequently used rooms in the home for most people. It's not only where food is prepared, but also where kids do homework, party guests congregate, and family memories are made. Because kitchens are so central to our homes, it seems like there is always some fancy new kitchen gadget or appliance on the market, each one dubiously promising to revolutionize your kitchen. However, we recently came across this specialty sink, and it really does look revolutionary.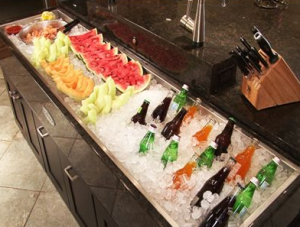 The Galley is a workstation/sink boasting cutting boards, a drain rack, and a number of steel bowls and colanders which can slide on two levels to create various configurations for food preparation and even serving. The modular nature allows you to easily adapt the setup according to whatever you happen to be cooking, and it makes cleaning up quick and easy. Take a look at the video below to get a better idea of how the system works.
http://www.youtube.com/watch?v=xBSndil5JFo&feature=player_embedded
This sink does look rather useful, but storage of the many components could be problematic for smaller kitchens. What do you think? Would you love to have The Galley in your kitchen, or is this one idea better left in the showroom?
Whether you love the latest kitchen innovations or just want to update your kitchen for a classic look, contact MJN & Associates Interiors today! Kitchen and bath renovations are among the many interior design services we offer to our clients in Johns Creek, Duluth, and elsewhere in Gwinnett County and the Atlanta area.
photos via The Galley portfolio