Thanksgiving is almost here, and people all over Gwinnett County are scrambling to plan their holiday meals. You've probably got the menu under control thanks to cherished recipes handed down through the years and plenty of cooking lessons from older family members, but have you decided how to set the stage for this much-awaited feast?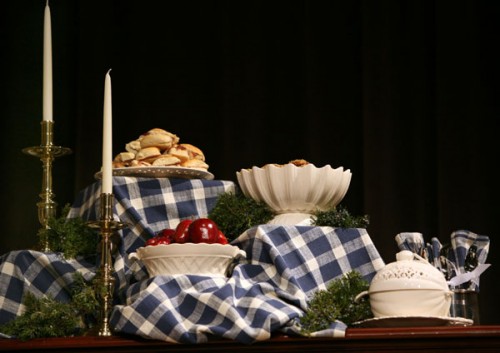 Buffet style dining is a wonderful solution to your holiday entertaining dilemmas, and we've got a handy tip for you when it comes to laying out the table. Principal designer Michelle Nettles recommends using sturdy boxes, paint cans, and the like to create multiple levels on your buffet table. Arrange a large tablecloth or piece of fabric over your platforms, and place dishes and trays of food throughout this tablescape for an elegant and visually intriguing look.
Add some flowers, glitter, candelabras, or other items that coordinate with your decor to the arrangement to complete the look, and your guests are sure to love the effect. If you need some practical pointers for the little details, check out Martha Stewart's tips for setting up a buffet, a great resource for any time of year.
If you want your Duluth or John's Creek home to really shine this holiday season, contact MJN & Associates Interiors today! We can help you decorate your home for the season and even design custom table runners, tree skirts, and more.
photo via Hampton Roads