We recently discussed how the furniture can make the space when it comes to designing an outdoor room at your Gwinnett County home, but it's also worth mentioning that outdoor fabrics can make the furniture! The need to use weather resistant, sturdy outdoor fabrics used to limit design possibilities, but not anymore. Many top designers have now added outdoor textiles to their collections, not to mention the possibilities provided by one of the leading textile manufacturers specializing in outdoor fabric- Sunbrella.
Using outdoor textiles specifically designed to resist the elements allows you to create more plush, comfortable seating. Gone are the days of uncomfortable plastic chairs; with special-ordered or custom designed cushions for your outdoor furniture, you'll achieve an outdoor living space so comfortable, you won't want to go inside.
Sunbrella's outdoor fabrics come in an array of colors and patterns, allowing you and your interior designer to find the perfect combination to fit your personal style and the style of your home. Below, we share some of our favorite examples of deck, porch, and patio designs using Sunbrella fabrics.
This slip covered  chaise lounge brings relaxed indoor elegance outside. When you have good foundational pieces, all it takes is a colorful throw, some pillows, and a great potted plant to transform your deck into a relaxing retreat.
For a seating area that will be a hit at your next summer party, choose festive stripes and vibrant colors. Thick cushions and lots of throw pillows can make even the hardest wooden bench feel comfortable and inviting.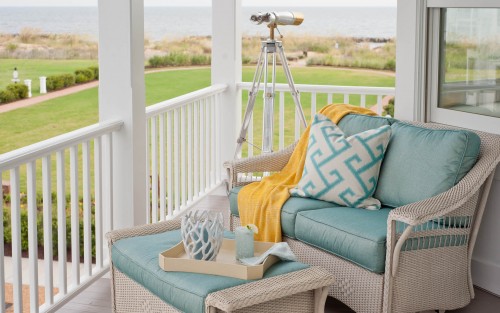 Our Gwinnett County interior design firm can help you find the furniture and fabrics that fit your home best, from loose and casual to structured and formal. We would be happy to help you transform your outdoor living areas with space planning, color selection, special order furnishings, and custom soft goods.
To learn more about our interior design services or inquire about our outdoor furniture lines, contact MJN & Associates Interiors.