One of the many interior design services we offer is art selection, and we're always on the lookout for art that can enliven our clients' homes. Our principal designer, Michelle Nettles, recently attended the American Craft Council Show at the Cobb Galleria Centre and had the opportunity to see some beautiful work.
This juried art show draws over 225 top contemporary artists from all over the country, in fields ranging from jewelry and clothing to furniture and home decor. One of the many talented artists at the show was Dan Neil Barnes, a glass artist from Lexington, Kentucky.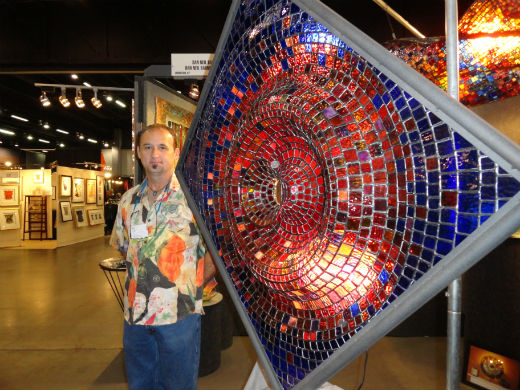 Barnes comes from a family of craftsmen, and built a stellar reputation in the design community for 15 years with his upholstery and furniture design business. A few years ago, he sought out another creative outlet and began studying stained glass. Since then, his stained glass work has garnered acclaim, awards, and been featured in several interior design shows.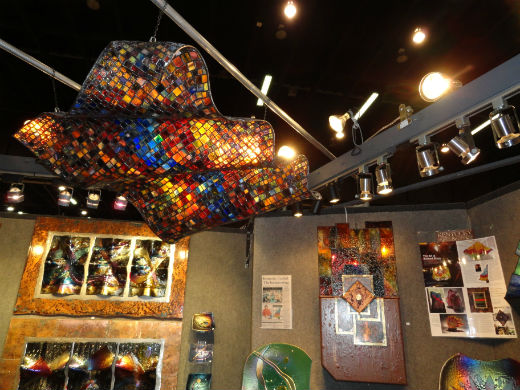 Barnes creates sculptures, lighting, fountains, vessels, and even custom windows and doors. The vivid colors, metallic accents, and rich pattern in his work combine to create a magical effect, reminiscent of the paintings of Gustav Klimt. When illuminated, these vibrant works of art become even more beautiful, like the wavy, organic piece in the photo above.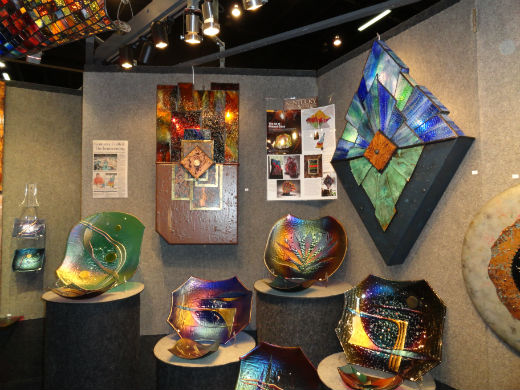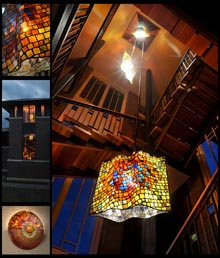 We especially love the piece pictured at right, a distinctive chandelier that turns what could otherwise be a boring space into a stunning focal point. Note the colored glass blocks incorporated into the stairway banister, which coordinate with the chandelier. This one, seemingly small touch makes a huge difference by unifying the different elements and creating a sense of harmony throughout.
If you need help beautifying your Atlanta area home, contact MJN & Associates Interiors today. We can help you bring out the best in your home with custom art, furnishings, draperies, and more.