Aging-in-place has become a hot topic in the interior design industry, and for good reason. Atlanta Home Improvement Magazine recently published a great article exploring this important design specialty, and how it can affect your life.
Unfortunately, many seniors do not implement any aging-in-place features in their homes until after an accident occurs. Why? Well, there is a stigma attached to this type of design, and most people are resistant to adding features that they fear will make their home look "clinical." The good news, though, is that aging-in-place and universal design features don't have to look clinical. They don't have to be noticeable at all!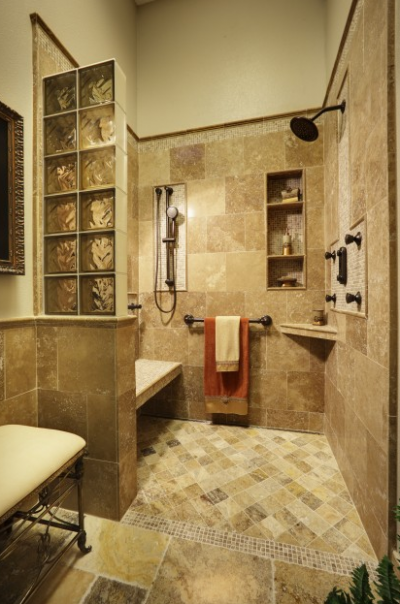 The key to a home remodeling project that will serve you well now, and in the future, is to integrate practical and aesthetic concerns.
"One of the keys to universal remodeling is to incorporate form with function…You donbt have to build a big wooden ramp to the front door or install bulky grab bars.b Not when beautifully graded landscaping and elegant towel holders designed to pull double duty between pleasing the eye and creating a safe environment can do the trick.
As the gorgeous bathroom above shows, you can remodel your home to look beautiful and still have those features you may one day need. Even for younger people, adding universal design features during a home remodeling project can add value to your home and make it appealing to an even wider audience, making it easier to sell the home in the future.
Our principal designer, Michelle Nettles, recently underwent training to become a Certified Aging in Place Specialist (CAPS). We're excited to add this to the already extensive list of interior design services that we offer to our clients in Atlanta and surrounding communities in Gwinnett County. If you are interested in adding universal design features to your home, contact MJN & Associates Interiors today.
photo via Houzz