Spring is here in Atlanta, and this beautiful weather means it's time to spruce up the outdoor living spaces of your home. One way to add beauty and fragrance to your porch or deck is a container herb garden. Not only will this look fabulous, but you can also enjoy using fresh herbs in your cooking all summer long. Once you've gotten used to clipping a sprig of fresh basil whenever you'd like, you definitely won't want to go back to the grocery store stuff!
Basil, mint, thyme, rosemary, and lavender are all good choices that are also easy to grow. Take a look at some great ideas for planting herbs in your outdoor living spaces, below.
Remember the cascading flower planter project we shared a while back? We love this version using galvanized steel planters and an abundance of herbs!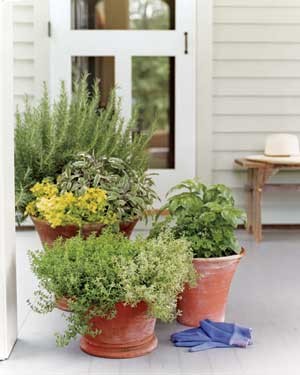 You can't go wrong with a trio of terracotta flower pots in varying heights.
Hanging baskets are a great way to grow herbs, even in a small space. These ceramic planters are darling, adding a bit of pattern and color to the garden.
At MJN & Associates Interiors, we love helping our Atlanta area clients design every part of their homes, both inside and out. Contact us today to learn more about how our interior design services can make the most of your home.