It has been a long winter, but before you know it, it will be time for sipping lemonade on the front porch and eating dinner al fresco in the backyard! The arrival of warmer weather can open up your home, massively expanding your living space if you have taken the time to cultivate comfortable outdoor living areas. With a little freshening up, you can give your home a whole new feel for spring, so read on for some tips from MJN & Associates Interiors!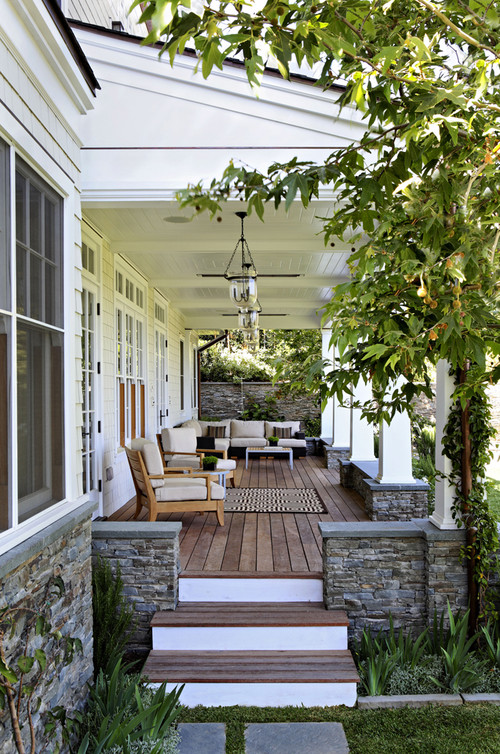 Set the stage: It's time to brush winter aside and do some spring cleaning around your home. Remove plant debris from outdoor areas and have trees and shrubberies trimmed back into shape. Driveways, porches, patios, pool decks, and siding should be pressure washed to start the season clean and tidy. And wash those windows! You'll be amazed at how much airier and brighter your home will feel without that subtle buildup of winter grime obscuring the sunlight.
Add structure and comfort: Review our guide to outdoor furnishings to help you choose the best style and type of furniture for your outdoor living spaces. If you already have furnishings, take them out of storage and/or give them a good cleaning. We can help you make your outdoor seating, dining, and lounge areas more inviting with custom upholstery. Add comfort to a hard porch swing with a comfy cushion, or liven up your patio with new custom seat cushions and an umbrella in a striking color or pattern.
Give it some personality: Finally, give your outdoor spaces some personality with art, decor, and of course plantings! For porches or other semi-enclosed spaces, treat it like an indoor room (within reason) and decorate with a fun chandelier or lantern, colorful wall art, a pretty tray and vase, or other accessories that fit the architectural style of your home.
Container gardens can add so much color, texture, and interest to a porch or patio. You can't go wrong with the usual planters, hanging baskets, and window boxes, but don't be afraid to think outside the box. Consider a vertical herb garden, great for a small balcony, or climbing vines to soften the hard lines of a courtyard or pergola.
If you want to create outdoor living spaces that truly add to the value of your home, providing space to relax, entertain, play, or enjoy nature, we can help. Contact us today to discuss our Virginia Beach interior design services.