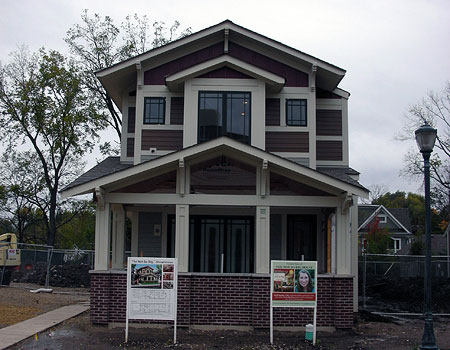 We've posted about Sarah Susanka and her Not-So-Big House philosophy before in a previous post, but the ideas are so universal we thought it was time for another look.
So what is the Not-So-Big House philosophy? Basically, the idea is to create homes that are better, not bigger. While many of us have been conditioned to believe that the answer to a better home is always more space, Susanka points out that the sense of home we seek lies not in quantity, but in quality. When our homes reflect our attitudes, values, and desires, we feel "at home," no matter how large or small the space may be. Now, that's not to say that space doesn't matter. However, you'd be surprised at how much less space you really need when the space you do have is intelligently planned- designed to fit your lifestyle, your needs, and your taste.
Susanka is currently working on the Not So Big Showhouse in Libertyville, Illinois, just north 0f Chicago. This home will show off a number of clever solutions to maximizing space while still creating a beautiful and welcoming environment. The showhouse opens November 19th, and we can't wait to see how it turns out! Visit her Facebook page to find out more about this innovative home design project.
Do you feel that your Atlanta-area home could fit your life better? At MJN & Associates Interiors, we create beautiful, functional spaces for our clients in Duluth, Johns Creek, and other Atlanta-area locations. Call us today to find out more about our interior design services that can help you make the most of yourB home.
photo via Not So Big Showhouse