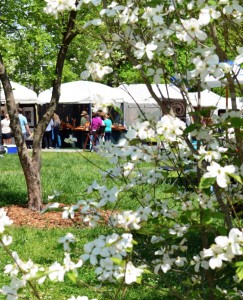 Spring is just around the corner, and after the eventful winter weather we've had, it can't come soon enough. While you're waiting for the flowers to bloom, don't forget about another of spring's many charms- arts and craft festivals. There are lots of excellent art fairs and festivals in the metro Atlanta area, all of which provide opportunities to find truly unique home decor items.
Before you shop, keep in mind this one interior designer shopping tip: Go big or go home (empty-handed). It's easy to get caught up in all of the fun little nicknacks, but stay focused on the larger items. Investing in one large item (a painting, sculpture, stained glass panel, or custom furniture, for example) will have a much bigger impact on the overall appearance of your home. A large statement piece can make a whole room sing!
If you're ready to head out and find some beautiful handmade decor for your home, check out these upcoming art festivals:
Folk to Fine Arts Festival & Expo
March 7th-9th, 2014
Historic Downtown Commerce, Georgia at the Commerce Civic Center
$7 admission, kids free
If you love folk art and fine crafts with Southern soul, this festival is a must-see. There will be over 30 exhibitors selling art, crafts, antiques, and jewelry.
April 5th and 6th, 2014
Olmsted Linear Park, Atlanta
Free admission
Enjoy 125 artist booths featuring fine art, crafts, folk, and outsider art, as well as local food and beverage vendors and a children's area.
78th Annual Atlanta Dogwood Festival
April 11th-13th, 2014
Piedmont Park, Atlanta
Free admission
This beloved local festival features a juried fine art market that includes sculpture, paintings, pottery, jewelry, photography, and other mediums. Other attractions include the Kids Village, rock climbing wall, sponsor booths, live music, and food vendors.
April 12th and 13th, 2014
Johnson Ferry Road in the heart of Sandy Springs
Shop 150 local and regional artists.
Buckhead Spring Arts & Crafts Festival
May 10th and 11th, 2014
Chastain Park, Atlanta
Free admission, children and pets welcome
Shop a juried market of artists and artisans in beautiful Chastain Park. The event also features live music, a children's area, local food and beverages, and more.
Photo via Atlanta Dogwood Festival