Leather has a reputation as a rugged, masculine choice when it comes to upholstery, and it can certainly work beautifully in that way. However, leather can be much more versatile than you may realize!
Custom furnishings for personalized style
If there's one thing we see over and over again, it is that many homeowners do not realize just how many options are at their fingertips when working with a professional interior designer. Along with the other interior design services we offer here at MJN & Associates Interiors, we can provide clients with custom upholstering and fine furnishings in order to create a truly personalized home.
If you've never considered the possibilities of leather beyond the traditional, masculine study, the man cave, or rugged/rustic decor, get ready to see leather upholstery in a whole new way!
Sophisticated styling
Slouchy leather sofas and chairs have their place, but today, leather can be so much more put-together! Look for tailored pieces with high-end details and graceful shapes for a more feminine look.
Beyond brown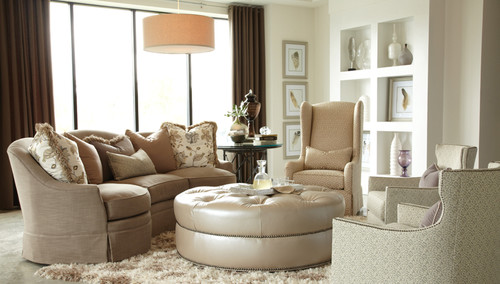 Brown and black leather are standbys, and can be perfect for some settings. However, if you're after a different look, there are endless possibilities in leather colors and finishes to choose from. From vivid colors to metallic leather and even pearlized leather, you can create striking drama or subtle sophistication with leather upholstery on sofas, armchairs, ottomans, poufs, dining chairs, and more.
Layering with leather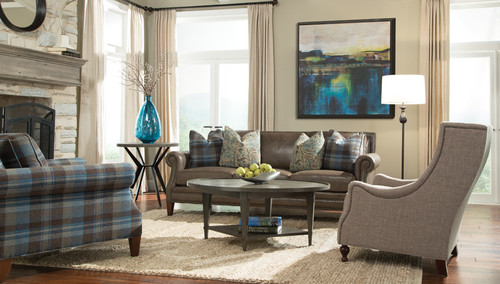 Leather is often perceived as cold or spartan, especially when deployed in simpler, more contemporary furniture styles, but Huntington House- a fine furnishings company we have featured before for their gorgeous customizable furnishings and high-end craftsmanship– offers this great solution. All Huntington House leather sofas come with at least two fabric pillows included. By layering fabric elements, the effect of a leather chair or sofa is softened. Drape a soft throw over a leather armchair or add some fabric throw pillows to a leather sofa to instantly create a more cozy, welcoming ambiance.
Whether you're interested in updating one piece, one room, or a whole house in new furnishings, give our Virginia Beach interior design firm a call today at 757-306-6000 to get started!