At MJN & Associates Interiors, we often work with clients to improve their homes, incorporating existing furniture and accessories. Sometimes it can be hard to visualize what certain changes to a space will look like, but our interior design firm offers a unique service to help with that.
Our principal designer, Michelle Nettles, can take a photo of your existing room and create a composite image to give you a preview of what the finished project will look like, so there are no surprises at the end of the design process. As you can see in the photo below, this bedroom was a little bland, with gray, scarf-style curtains and a plaid armchair that had seen better days. While the draperies and armchair needed an update, the beautiful, classic wood furnishings were just right.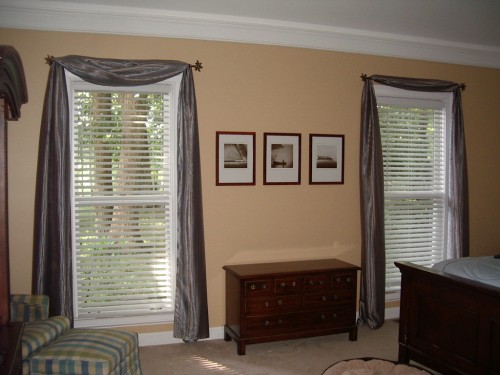 Now, take a look at the composite rendering. The resulting image allows you to get an impression of what the new draperies and re-upholstered chair will look like, how they will coordinate with the existing furniture, and the overall effect the changes will have on the space.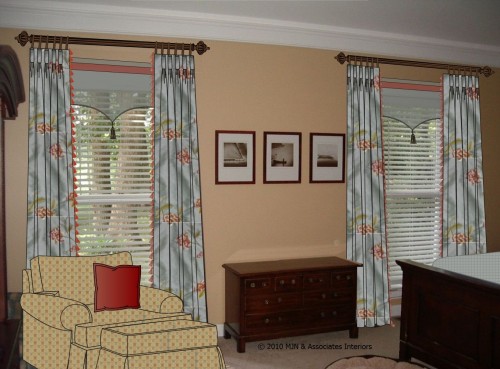 And finally, take a look at the finished project. Drapery panels are a more current style than the scarf look, yet the fabric, curtain rod, and other details coordinate well with the traditional furniture. The more structured silhouette and strong horizontal impact of the curtain rod also relates better to the architectural elements in the room, namely the wide crown moulding.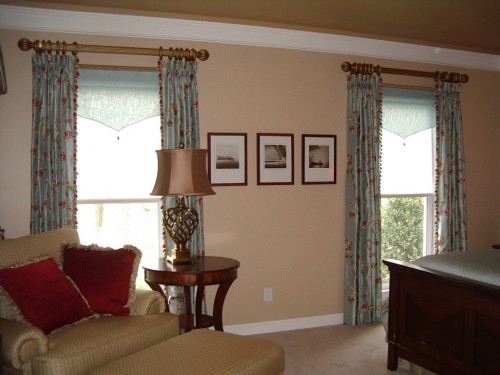 Are you interested in making some changes in your Duluth area home, but aren't sure how to work with your existing space and furnishings? If so, contact MJN & Associates today! We can help you envision your new home by creating a customized rendering based off of actual photographs of the space, as well as a whole host of other interior design services.