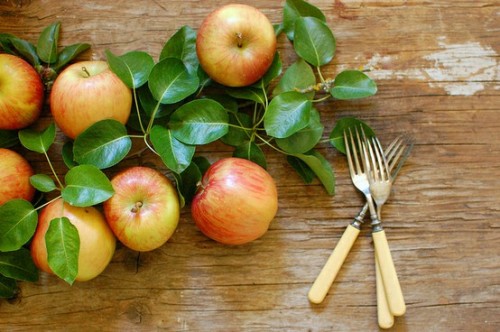 Colder weather in the fall has most of us spending more time indoors, so it only makes sense to do a little seasonal decorating. Bring some natural beauty into your home by creating elegant centerpieces and other arrangements for your dining room table, mantle, coffee table or anywhere else that could use a bit of adornment.
The key to creating elegant fall decor is subtlety. Steer clear of scarecrow-and-pumpkin motifs and the like in favor of real natural materials, fall flowers, and rustic vessels. Use the harvest as your inspiration and assemble a collection of pumpkins and other gourds, richly colored maize, botanical elements like seed pods, pine cones, or acorns, a sheaf of wheat, or even apples, some of which can boast surprisingly lovely shades of gold, red, and green.
Autumn flowers like chrysanthemums work beautifully, and you can't go wrong with roses, parrot tulips or lilies in shades of gold, orange and red. Variegated varieties are especially nice for fall, and if you want to go really dramatic, try a shade of dark, almost-black crimson. For step-by-step instructions on making your own centerpieces, check out these tutorials from Martha Stewart:
Fall is all about the warmth of home, so choose containers that evoke a rustic, handmade elegance, like baskets or handmade ceramic items. A handmade vase by a local or regional artist would work perfectly. (Mark of the Potter, located in the North Georgia mountains, is a fun destination for a day trip!)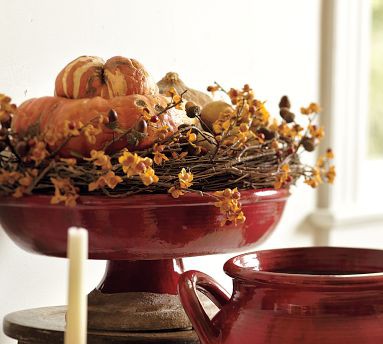 Another great way to add seasonal decor to your home is to have a fall runner created for your dining room table. The design and procurement of custom soft goods is just one of the many interior design services we offer at MJN & Associates Interiors. If you need some help putting the finishing touches on your autumn decor, contact us today! We have years of experience designing beautiful homes for clients in Duluth and all over the Atlanta area.