Aging in place design has come a long way, baby! The days of clinical-looking bathrooms that could be straight out of a hospital are gone. Instead, today's aging in place remodeling focuses on long-term accessibility without sacrificing personal style. If you're ready to remodel your Virginia Beach home, consider including these 3 must-have aging-in-place bathroom features.
Roll-in and curbless showers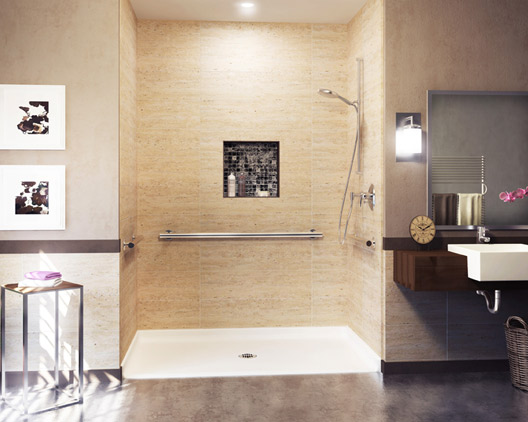 Showers have been outpacing bathtubs in popularity for years, with many homeowners preferring to forego a bathtub altogether in the master bathroom in order to accommodate a larger shower. If you're already interested in a spacious shower, consider opting for a roll-in or curbless model. Also known as a "thresholdless shower," they do not have a raised ledge that must be stepped over to enter.
Some roll-in showers have a shallow bump that keeps water contained while still allowing a wheelchair to easily roll into the shower. Curbless showers offer a completely smooth transition from shower to bathroom floor with no ledge or bump, eliminating the tripping hazard. These showers not only offer practical benefits, but also look sleek and sophisticated, as seen with the Aquatic curbless shower pictured above.
Grab bars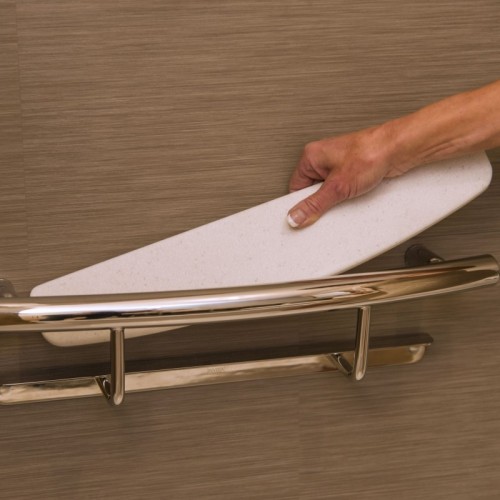 Grab bars are extremely useful, but many homeowners are hesitant to include them in their bathroom remodels because they don't want to have the aforementioned medical look or feel to the space. However, the joy of remodeling is that you can incorporate smart design elements without sacrificing style! Remodeling is an opportunity to choose products that provide safety functions and still look fantastic, like the Invisia shelf above that combines always-needed storage space with sturdy grab bars that don't interfere with the sleek and modern lines of today's bathrooms.
Shower seat
Shower seating is important for aging in place design, but many high-end showers already include seats because they're simply convenient, a nice feature to have regardless of age or ability. Built-in bench seating integrated into the tile of the shower (above) is popular and provides a cohesive look, but there are also some beautiful fold-down options in chrome and teak that add a spa feel to the shower (below).
If you are interested in practical design that will help you stay in your home as you age, MJN & Associates Interiors can help you achieve it while also satisfying your personal sense of style! We want your home to make you happy, and that means it needs to look beautiful and work beautifully, too. Contact us today to learn more about our Virginia Beach remodeling services.