Thomas Edison has been quoted as saying that genius is 1% inspiration and 99% perspiration. I believe that all genius requires creativity and, as all creative people know, it's that 1% that drives the 99% of the energy that will be expended to make an idea become a reality.
Whenever I work with a client, I am ready to hear their inspired design ideas. I make my suggestions based on what the client has shared with me and based on my expertise.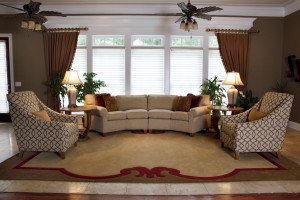 From floor to ceiling, this sunroom is a dream come true.
In order to communicate your inspiration to your interior designer, here are a few things to consider so that you will be prepared to clearly share your vision.
Determine what your initial budget will be.
Make a list of the most important results you would like to obtain from the renovation.
Start a notebook.
Take pictures of what you like.
Browse through magazines and websites for inspiration and to become familiar with what you like. Note some of the things you find appealing. Ask yourself the following things:

How do I want the space to function? How will I use the space?
What styling do I want – traditional, transitional, contemporary?
How do I want the room to feel : Cozy? Open and bright? Casual? Formal? Warm? Cool?
What color scheme do I want to use?
Will that scheme flow with the rest of my house?
Light, dark or painted wood tones?
Faux finish details?
Does my budget support my wish list?

Sort through your images and prioritize your wants and desires.
Have an architect or designer draw up plans for you. A professionally done drawing will help to keep the project on track and is necessary for proper communication between you, the designer and the contractors.
Choosing a qualified and talented interior designer to project manage your renovation is critical to the success of your project. Not only will they provide creative direction, they also know what your local building codes are and which professionals are best for each task.
With these tips, you will be prepared to easily communicate with your interior designer so that they can help you to fulfill your renovation dreams.
If you want to update the look of your home, contact MJN & Associates Interiors today! We can help you transform your Johns Creek, Duluth, or Atlanta home with custom interior design services.