Our principal designer Michelle Nettles recently attended class to become a Certified Aging in Place Specialist (CAPS), and we discussed in a previous blog post how aging in place and universal design are growing trends in the home design industry.
These related fields of interior design strive to create spaces that are accessible to as many people as possible, designed to be versatile and meet many different needs while still achieving a beautiful result. In fact, when universal design is done properly, you don't even notice. We recently came across a project that does an impressive job of melding universal accessibility with style and elegance, all for a good cause.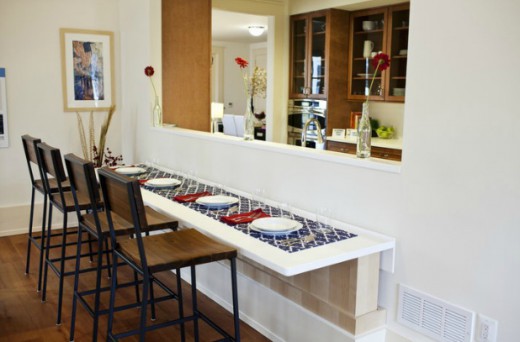 In "Building Better Houses for Wounded Soldiers," we get a special glimpse into an innovative new project to benefit our country's wounded veterans- the Wounded Warrior Home at Virginia's Fort Belvoir Army base. Thanks to advances in prosthetics and medical technology, more soldiers who are critically injured in combat are able to survive- and some of those are choosing to stay in the military. This presents a unique challenge for military housing, since most base housing is not designed to accommodate disabled occupants.
Retrofitting homes to be wheelchair accessible is not enough; there's really no substitute for creating something right from the beginning. With that in mind, the Wounded Warrior Home is a template for a new type of house, one that takes into account the many physical and emotional needs of a soldier returning from combat.
The home includes features like automatic, easy to open doors, wheelchair accessible sinks and appliances, adjustable-height counters, "wet room" baths with curbless showers, and even design elements meant to help control symptoms of post-traumatic stress disorder (PTSD), like large windows and French doors that create an open feel. These are great features, to be sure, but what's most impressive about this house is that you'd never know it was designed with disabled veterans in mind.
The story of how this home came to be is truly inspiring, so do yourself a favor and check out the article (linked above).B Are you interested in universal design or aging in place? If so, contact MJN & Associates Interiors to find out more about our range of interior design services.