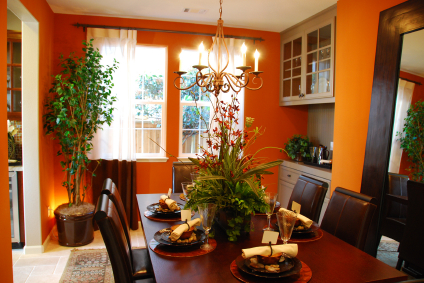 You don't have to sink a lot of money that you don't have into changing your home. In fact, it doesn't take a lot of dough to make changes that will change your mood in your home. Use the following makeover tips to express changes in your style whenever you feel the need.
Make Use of Rugs – These can be large, medium, round or square rugs depending on your style. Area rugs can change the feel in a room and also protect your carpet underneath. Area rugs work well on hardwood floors to define spaces. Place one under your dining room table. In the living room place, a different rug under the furniture in each area of the room as a sort of dividing technique.
Use Mirrors – Mirrors in the hallway add length and depth to your home. Use mirrors across from windows and doorways. Save space by hanging full-length mirrors on doors and walls. Turn coffee tables into mirrored surfaces to reflect the ceiling above.
Add New Fixtures to Your Home – This is one of the simplest changes you can make to define your home. Use the color scheme in each room as a guide. Polished silver or bronze fixtures work well with dark colors. Change cabinet handles and faucet fixtures in bathrooms and kitchens. High pouring faucets allow you more room in the sink especially when cleaning large pots and pans.
Add Molding – While this can be a more expensive project, it makes a big difference. You can save on the cost by enlisting the help of knowledgeable friends or a professional. Use chair rails to divide walls in your dining room or down the hallway. Crown molding adds also adds height to ceilings.
Change the Flooring – While this makeover tip is quick, it is also costly. Many flooring companies can change a carpeted floor to a hardwood or laminate floor in as little as six hours. To prep the area, you need to move out all furniture. Consider what type of  flooring will be most suitable for the area and consult with a design professional to make sure it is well integrated to the rest of your home before going ahead with the project.
It is the little things that mean so much in life. For your home, that adds up to a big change in how you feel and function in your living quarters. Use these few simple tips to redefine any room in your home to suit your family. Quick changes can be made at any time and most can be redone again and again as your feelings dictate.