In our last post, we explored the myth that it's better to buy a cheap sofa when your children are young, when in reality, investing in a quality sofa will pay off in the long run. Purchasing a good sofa means it will stand up to wear and tear better, and you will have a foundation piece for your home that you can enjoy for years to come. But what exactly makes one sofa better than the other?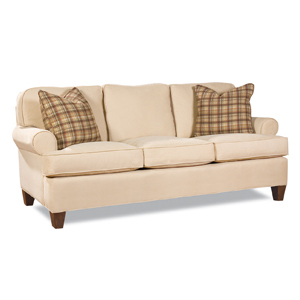 At our Gwinnett County interior design firm, we often specify Huntington House sofas for our clients. We love the company's large selection of clean, classic styles, but most of all, we appreciate the high-quality and impeccable craftsmanship of their products. Before making a purchase, consider these 5 things to look for when choosing a sofa.
Kiln-dried hardwood– Kiln-drying ensures that the wood will not warp.
Double dowel joints and corner blocks-These features reinforce the frame, making a sturdier product.
Wrapped wood– The interior support elements should be wrapped for comfort.
Eight-way hand tying– This seat construction technique is very old and requires an incredible amount of time, patience, and skill to create, but it has stuck around because there is no substitute for the comfort it provides.
Hand tailoring– Fabrics or leathers cut by hand and matched with skill will yield more accuracy in construction andB a more elegant final product.
In addition to furniture selection and custom upholstery, we offer a wide variety of interior design services to help you make your home the best it can be. Contact MJN & Associates Interiors today to discuss your Atlanta home design needs.
photo: Huntington House