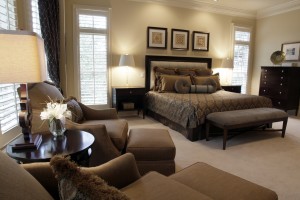 Never underestimate the power of good interior design. You may not give much thought to the emotional effects of your physical surroundings, but there's no denying that your environment influences your mood, from the drab utilitarianism of an airport to the warm, inviting ambiance of your favorite restaurant.
While some spaces obviously lack any aesthetic appeal, others are unsettling for different reasons. Have you ever been in a hotel, restaurant, or even a home that looked fantastic, but just didn't feel good? There is more to creating a comfortable home than choosing the best finishes or most impressive furnishings. Subtle cues like scale and seating arrangement can make the difference between a cozy, intimate gathering space and an awkward, off-putting room.
When it comes to decorating your home, embrace interior design that fits your personality, lifestyle, and entertaining needs. Read on for some easy decorating ideas to help you do just that.
Choose the right seating.
Be realistic about what you need from your seating, rather than choosing furnishings based only on aesthetic appeal. For instance, if your typical hosting style includes laid-back game nights and family movie screenings, choose comfortable, durable seating that can accommodate a crowd and encourages everyone to kick back and relax. That does not mean that you can't have an attractive sofa, but you should probably choose a tailored sectional over a chaise lounge.
Cater to kids.
Your family home is just that, a home for your family, so don't worry about creating a home that looks like children have never stepped foot inside. As we've discussed in previous posts, choosing high quality furnishings can actually be a smarter choice since your kids won't be able to destroy them as easily.
Create spaces just for your kids and they'll be more likely to hang out there. For instance, a craft room full of kid-friendly supplies and easy-to-clean finishes will help channel their creative energy and save your sofa from a Crayola-fueled disaster. If you have teens, encourage them and their friends to hang out at home by equipping your bonus room with comfy seating, a big TV for video games, a pool table, and a mini fridge stocked with snacks and beverages. Even if you can only choose one or two, your kids will appreciate having a space to hang out with their friends.
Treat yourself.
What do you wish you had more of in your life? Relaxation? Romantic time with your spouse? Make those goals easier to reach by designing your house with them in mind. For instance, create a spa bathroom to give yourself a place to recharge, or add a small kitchenette and seating area to you master suite so you and your spouse can enjoy a kid-free morning cup of coffee or evening glass of wine.
No matter what your family's needs are, we can help you create a home that is comfortable, inviting, and still looks gorgeous. Contact MJN & Associates Interiors today to discuss your interior design project.