High Point Market always offers an abundance of interior design trends and inspiration, but two of the most evident are undoubtedly the dominant color trends of blue and gray. If you'll recall, we have discussed gray and blue in past years' High Point Market trend reports, and they aren't going away any time soon.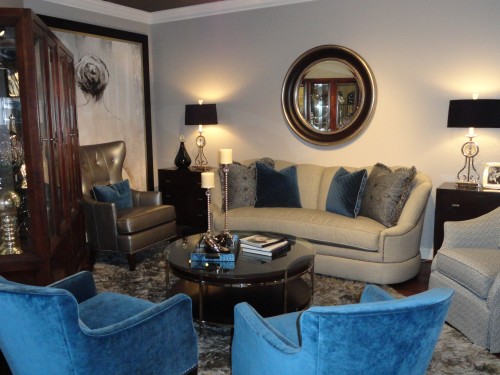 Blue remains one of the most popular colors for interior design due to its serene, calming effect. From pale robin's egg and sky blues to bold cobalt and turquoise, blues are big in everything from furniture to wall colors to accessories.
One particularly nice combination is blue and chocolate brown. This combination balances warm and cool tones well, with the rich cocoa wall allowing the vibrant blue chair and accents to really pop.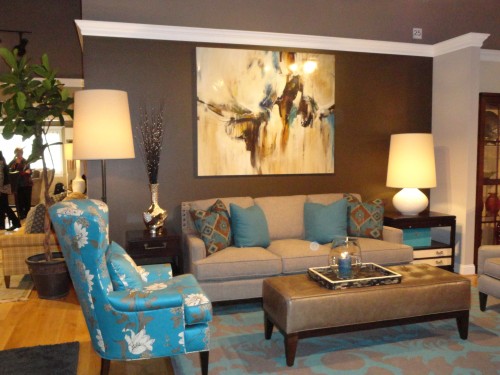 Gray has been the reigning neutral for a few years now, and for good reason. From blue and lavender tints to earthier grays with more brown undertones, gray is versatile and works well as a mid-tone background to help furnishings, art, and accessories shine. This calming space combines various gray tones with pale blue and green for an understated yet elegant look.
Pale chartreuse and gray is the latest version of the gray and yellow trend from a couple years back. When using gray, it's important to include some pops of color to keep the gray from looking gloomy.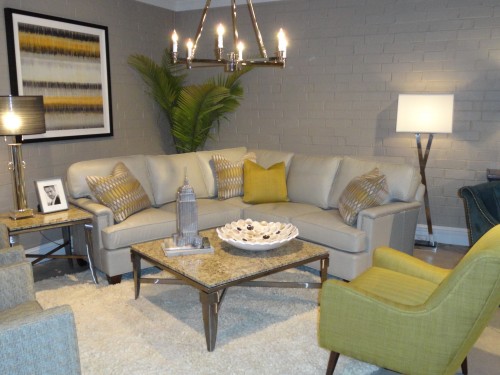 What do you think of these color trends? We'd love to hear from you, so leave your comments below.
If you are interested in updating your home with a fresh new color palette, contact MJN & Associates Interiors today!