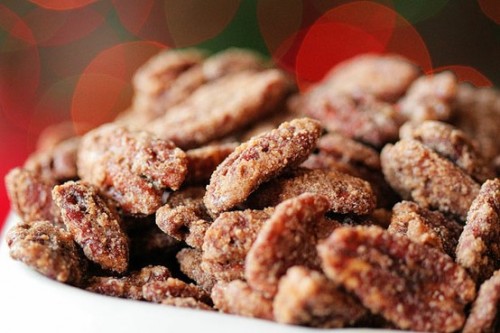 Our last post was all about last-minute holiday gifts that your friends and family will love, and one of those gift ideas was homemade goodies. We all love to eat, and what could be better than a yummy treat made with love?
Our principal designer, Michelle Nettles, recommends this quick, easy, delicious recipe for candied pecans. We all have that impossible to buy for person on our list, but there is rarely a person who is impossible to bake for! These slightly sweet, satisfyingly crunchy morsels are just perfect for the person who "already has everything." They're also a big hit at parties, so put some in a pretty, festive bowl at your next holiday gathering.
Candied Pecans
Ingredients:
1 egg white
1 tablespoon water
1 lb of pecans halves
1 cup of sugar
1-1/4 teaspoon of salt
1 tsp of cinnamon.
Preheat oven to 300 F.B Beat egg white until stiff and fold in water and pecans.B Mix sugar, salt and cinnamon, then sprinkle over pecan mix. Spread the pecan mixture evenly on a foil covered cookie sheet and bake for 30 minutes.B Remove from oven, break apart by stirring, and cool.B Store in an airtight container.
And here's one more Christmas treat we thought you'd enjoy- Check out the Sistine Chapel, where you can take a virtual tour of the chapel and view its famous Michelangelo frescos, accompanied by beautiful a capella singing. Merry Christmas from MJN & Associates Interiors!
photo via Pinterest