As you may have seen in our previous blog posts, principal designer Michelle Nettles brought back some fantastic photos from the Art Deco festival and furniture show she attended in Miami's South Beach. Let's take a closer look at some of these gorgeous pieces of furniture, and how they display classic tenets of Art Deco design.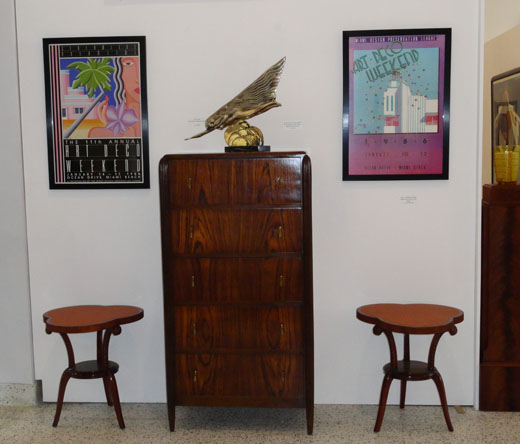 Graceful, sleek silhouettes– Rounded corners, streamlined forms, and even futuristic styling are all hallmarks of this type of furniture. This chest of drawers displays the sleek, rounded corners, while the curled legs of these elegant side tables show off the tendency towards curvaceous lines.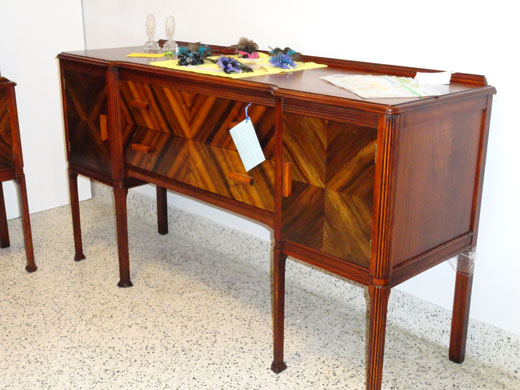 Geometric motifs and repetition– Patterns like Greek keys, fans, circles, and frozen fountains were common. Even the symmetry of the X-shaped wood inlays on this sideboard conveys a geometric sensibility. Of course some Art Deco furniture takes the look much further, but this is a lovely example of a style that could fit easily into a home today without looking like obvious period furniture.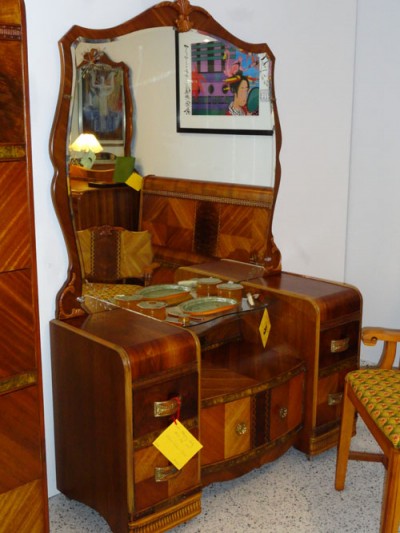 Rich, glossy finishes– Fitting with the glamorous, decadent tone of Art Deco design, wood was given the star treatment with heavy lacquer or enamel finishes. This stunning vanity table perfectly demonstrates a number of elements of the Art Deco style- glossy, rich wood; repetitive pattern in both the wood inlay and carving at the base; and a streamlined, curving form.
As you can see by the bold, stylized forms of these pieces of furniture, ocean liners and industrial machinery were very influential to design at this time. The machine age was new and exciting, and there was a decidedly futuristic bent to the style.B (Check out the iconic film Metropolis to see a stunning example of Art Deco set design, with a strong emphasis on the industrial/futuristic elements.) It's also worth noting that the Tutankhamen Exhibition that debuted in Paris in 1922 had a strong effect on the style, piquing consumers' interest in intricate pattern, geometry, and repetition.
To see some more examples of Art Deco style, stay tuned for Part II. For a general overview of Art Deco interior design, check out a previous post we did here at MJN & Associates Interiors. And remember, no matter what your style, we can help you bring out the best in your Gwinnett County home!